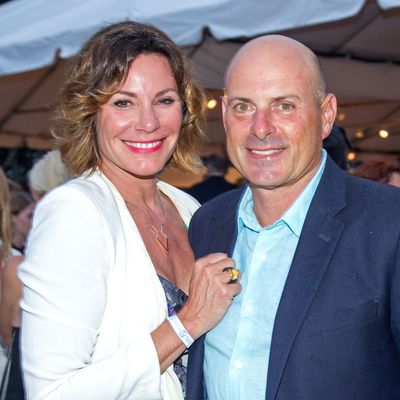 Luann de Lesseps and Tom D'Agostino Jr. attend the 23rd Annual Watermill Summer Benefit at the Watermill Center on July 30, 2016, in Water Mill, New York.
Photo: Steve Mack/Getty Images
Tonight is the season finale of criminally engrossing Real Housewives of New York, and it's going to be a bad one for Countess Luann, based on how much damage control she's doing in preparation. Last week, we saw her co-star Bethenny Frankel reveal that Luann's fiancé, Tom, kissed another woman. Tonight, Bravo will show the fallout. The episode hasn't even aired yet, and Luann has already given an exclusive interview to People, stressing that she is still getting married no matter what!!!
She did admit, however, that Tom's behavior "devastated" her. From People:
On the last week's episode, Bethenny Frankel presented photographic proof that the Countess' fiancé, Tom D'Agostino, Jr., kissed an ex-girlfriend at the Regency Hotel in New York.

"It felt like someone ripped my heart out of my chest," she tells PEOPLE of seeing the photos. "I was devastated. I had my heart broken on television."

Despite his locking lips with another woman the night before the couple's engagement party (de Lesseps reveals they'd had a fight and parted ways), the 51-year-old reality star is choosing to move forward with her engagement.
Luann rationalized the whole thing to People. "I'm not going to let a stupid kiss ruin the rest of my life," she said. "He screwed up. What he did was wrong. But this wasn't premeditated. It wasn't an affair. It was a mistake. He was upset with me. It was a stupid retaliation of some sort. He did the wrong thing, and he totally recognizes that. I know in my heart of hearts that he loves me."
For his part, Tom told the magazine, "If I could take it back, I would. I deeply regret the mistakes I've made, and most of all hate the way it hurt Luann."
Oh dear.
Luann and Tom are planning to get married on New Year's Eve in Palm Beach, Florida, if everyone makes it through tonight's episode alive.