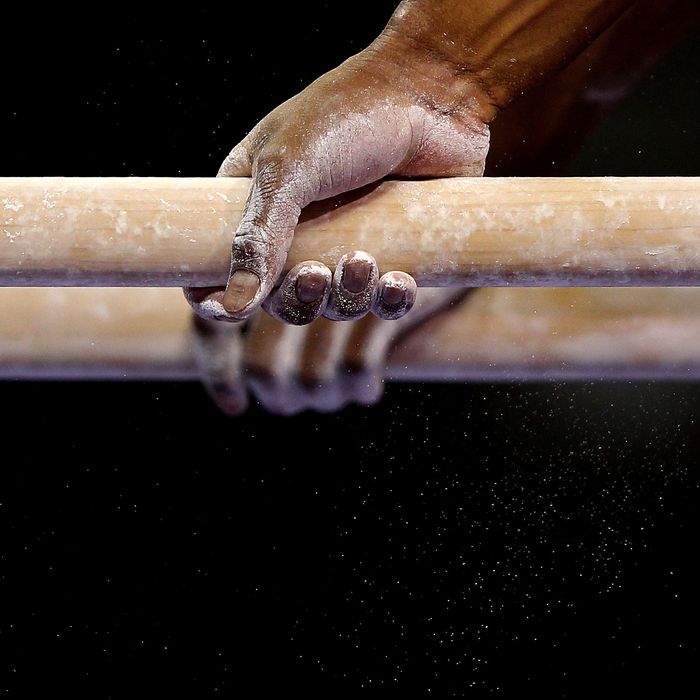 USA Gymnastics is under fire.
Photo: Ezra Shaw/Getty Images
A damning new report from the Indianapolis Star alleges that USA Gymnastics, the sport's governing national body, failed to properly investigate dozens of claims of sexual abuse by its coaches. According to the report, the organization received and filed sexual-abuse complaints about 54 coaches from 1996 to 2006, but it failed to investigate any that didn't come directly from the athlete or the athlete's parent due to "concern about potential danger to a coach's reputation if an allegation proved to be false," its president said.
But the Star was able to verify that, in at least four cases, the allegations proved true. Months, and in some cases years, after USA Gymnastics received complaints about coaches, they were arrested and charged with sexual abuse.
A particularly egregious case involves coach William McCabe, who was fired by a Florida gym in 1996 after being accused of preying on young athletes. When the gym's owner found out McCabe had been hired by another gym two years later, he sent a letter to USA Gymnastics warning them that, among other things, "a staff member had told him that McCabe bragged about having a 15-year-old girl in her underwear and said he thought he would be able to 'f— her very soon.'"
USA Gymnastics responded that it was "awaiting an official letter of complaint from a parent and athlete" before investigating McCabe and that it would add the gym owner's letter "to the file." Another gym owner sent the organization three separate complaints about McCabe in 1998, but in 1999, USA Gymnastics renewed McCabe's membership.
In fact, McCabe wasn't investigated until 2006, when the mother of a gymnast came forward about disturbing emails he sent to her 11-year-old daughter. That same year, he pleaded guilty to federal charges of sexual exploitation of children and making false statements and is currently serving a 30-year prison sentence. 
According to Shelley Haymaker, an Indiana attorney who represents child victims, USA Gymnastics may have broken Indiana state law by failing to report allegations of abuse — attorneys are encouraged to "err on the side of precaution" and to report claims if there's a "reason to believe" abuse has occurred.