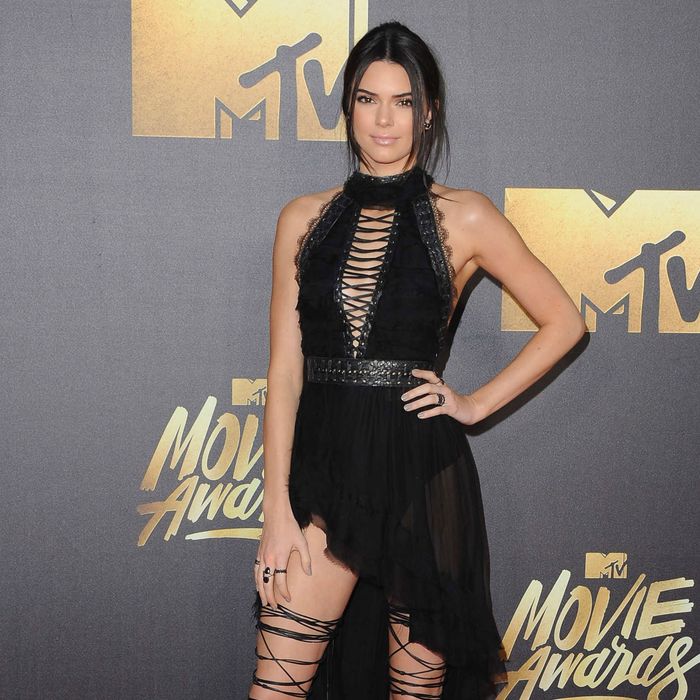 Photo: Jon Kopaloff/FilmMagic
It's safe to say that within the Kardashian family, Rob Kardashian is the least enamored with the public spotlight, often sharing little, if anything, of his life or that of his ultrafamous siblings. But his latest (and only!) post on Instagram reveals a fun tidbit about his sister Kendall Jenner.
First of all, let's appreciate how rare it is that Rob Kardashian is sharing stuff on social media. Though he has another reality-TV show in the works with fiancée Blac Chyna, Kardashian has continued his love-hate relationship with social media and had pretty much disappeared from all social platforms. He briefly came back to Instagram and Snapchat this year when his relationship with Blac Chyna blossomed, but he then mysteriously deleted all of his Instagram photos amid rumors of relationship trouble. Oh, Rob …
A special occasion, though, seems to have brought him out of the woodwork. As of Wednesday, he's posted a single, new photo to his account: the September Vogue cover starring Kendall Jenner.
And in his caption, he calls the younger of his sisters by the nickname "Kenny." Now, "Kendall" might be the name that's plastered on the cover of the magazine, but we know that's not what her big brother calls her. Also, "Kenny" has only two letters fewer than her actual name, so it's anyone's guess why mama Kris didn't opt for the name on the birth certificate. Maybe she thought there were already too many Kennys in the world? We'll probably have to wait for a future episode of KUWTK to find out.
No word, either, on whether the rest of the family calls Kendall "Kenny." But you have to admit: It does have the nice long-e sound that so many of the other names in the family have. So, there's that.
Thanks for filling us in, Rob!