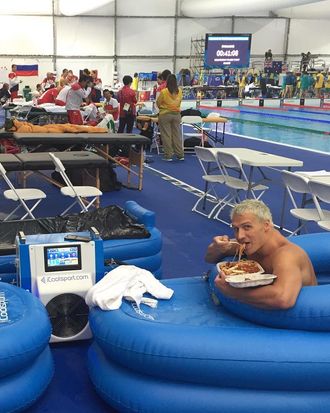 In a recent interview, Ryan Lochte explained that he once tried spiralized cucumber pasta, but hated it so much that he asked, "Where's my other pasta?" Well, we can all breathe easy now — because Ryan Lochte finally got his other pasta.
In a new photo posted to his Instagram, Lochte and Michael Phelps are hanging out in individual ice baths, each digging into a large container of spaghetti. Lochte holds noodle to fork and fork to mouth, angles one beefy bicep outward, and gazes seductively into the camera.
This is a nice photo.