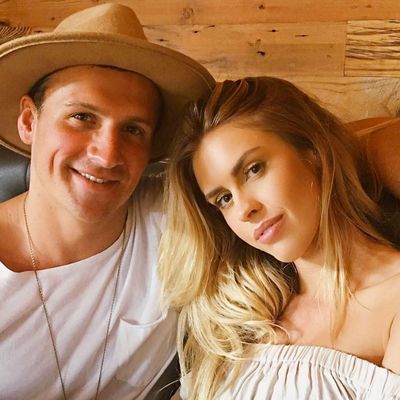 Ryan Lochte and Kayla Rae Reid.
Photo: Courtesy of Instagram/kaylaraereid
Two weeks ago, America's hero Ryan Lochte told Cosmopolitan that he was on Tinder. "I've been matching up with a bunch of gorgeous women who are smart," he said. "They have professional jobs and everything. I'm like, 'Wow, this is perfect.'" Perfect, indeed. Today People reports that Lochte has met his "match": a 25-year-old Playboy Playmate named Kayla Rae Reid.
According to People, "The Olympian set fans abuzz over the weekend when he shared a photo on Snapchat of himself with [Reid] sitting in his lap while visiting the Beats House in Rio de Janeiro, Brazil, with his parents." Reid has also posted several photos from Rio on her Instagram account.
Though Lochte claimed two weeks ago that he was perusing dating apps, it appears that he and Reid have been seeing each other for some time. She has photos of him on her Instagram account that date back months.
Lochte has yet to comment officially about the relationship. One more thing to note: Reid has an extremely cute dog.