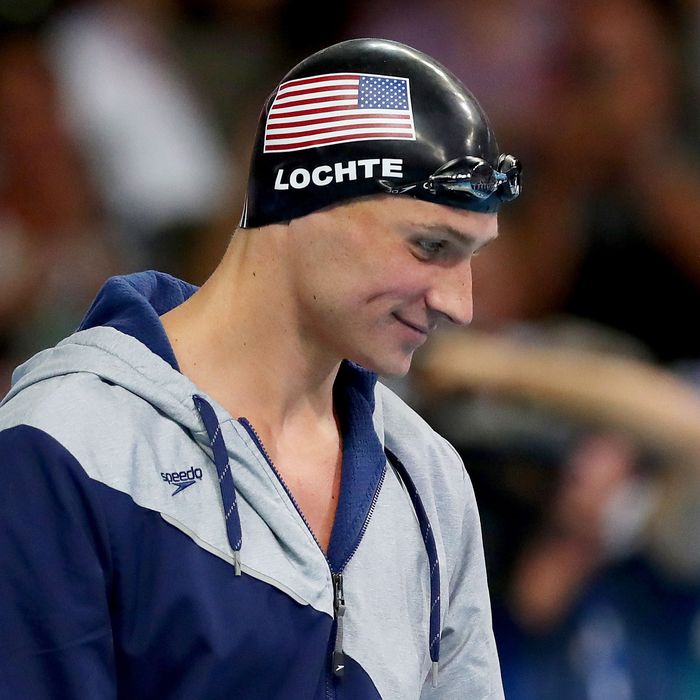 Photo: Tom Pennington/Getty Images
Well that was quick. It was only last week that we were introduced to the silver-fox version of Ryan Lochte (though, truthfully, he claimed it was a light blue). By Tuesday, though, it appears that Lochte's hair has changed color on us yet again. And this time, it might not have been his intention.
Lochte, the Olympian who is as known for his many medals as he is for his goofy antics (and coining the unfortunate "Jeah!"), appears to have forgotten the powers of chlorine. Which might explain his latest look: a mint-green hair color.
Lochte hasn't commented on, much less lamented, his latest color change. He debuted a photo of his minty-green hair a few days ago on Instagram (maybe he looked in the mirror and said "Jeah!"). That seems to have flown under the radar, but when he competed on Tuesday, his hair was on full display to baffle everyone. Even his fans weren't exactly fans of his latest look, to say the least. And, as always, people on Twitter had plenty of thoughts on Lochte's new silver/light-blue/mint-green hair.
Now, it's perfectly possible that Lochte dyed his hair again. But really, who are we kidding? Chlorine, as any (other) swimmer will tell you, wreaks havoc on hair. But on a dye job? Well, that's a question Lochte can now answer with some firsthand experience.
Here's to Lochte's changing hair color!