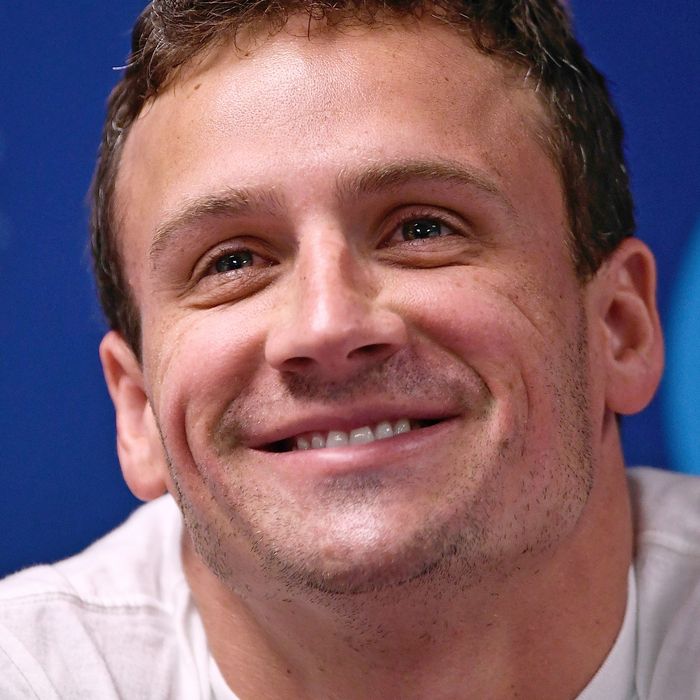 Photo: Mike Comer/Getty Images
Brazilian officials are trying to figure out exactly what happened during one night in Rio when some members of the U.S. Olympic swimming team said they were robbed at gunpoint. To do that, they'd really like to further question the swimmers and they've taken steps to halt their leaves from the country while the investigation continues. Unfortunately for them, though, at least one of the swimmers, Ryan Lochte, is already back on U.S. soil.
On Wednesday, a judge in Rio ordered that Lochte's and James Feigen's passports be seized and that they not be allowed to leave the country until submitting to further questioning regarding the armed robbery they claimed happened in the city. Lochte, though, is already back on U.S. soil since he left before the judge issued the order, Lochte's lawyer told E! News. While Lochte is able to respond to the investigation while out of the country, some of his swimming teammates are stuck facing authorities in Brazil until further notice.
While it's unclear whether Feigen is still in Brazil, the two other swimmers in the case were pulled off their flight at the airport, according to the New York Times. A spokesperson for the Olympics confirmed to the Times that Jack Conger and Gunnar Bentz were taken off their plane.

Details of the armed robbery are coming under scrutiny and the swimmers' accounts are being questioned. The judge overseeing the incident stated that there were inconsistencies in the swimmers' versions of what happened when they left a party and were supposedly robbed at gunpoint by people dressed in police uniforms. Officials in Rio have also apparently been unable to find supporting evidence or witnesses who can corroborate the accounts of what transpired.

Initially, Lochte told the Today show's Billy Bush that they were stopped in a taxi by men dressed as police officers. He also said that a man held a gun pointed to his head. "The guy pulled out his gun, he cocked it, put it to my forehead and said 'get down,'" Lochte said. "I was like, I put my hands up. I was like 'whatever.' He took our money, he took my wallet."
But in a phone interview with NBC's Matt Lauer, Lochte appeared to have changed some of his story. He told Lauer that the taxi stopped at a gas station and that things took place there. He also said that the gun was "pointed in [his] direction," instead of to his head. When Lauer pointed out the inconsistencies in the story, Lochte said they were a "traumatic mischaracterization" and a result of stress from the incident.
This is turning out to be one heck of an international crime story.