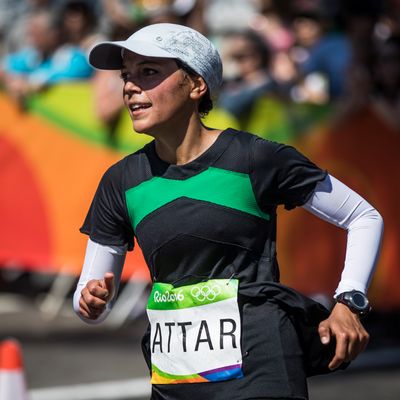 Sarah Attar.
Photo: Lucas Oleniuk/This content is subject to copyright.
On Sunday, Saudi-American runner Sarah Attar competed in her second Olympics but her first Olympic marathon. She finished the marathon in three hours and 16 seconds, and, compared to the other athletes, she stood out as the one runner who was covered nearly head to toe. In 2012, Attar became one of the first two Saudi Arabian women ever to compete in the Games, and this year she ran for the first time in a specially designed running kit made by athletic apparel company Oiselle. There are particular challenges to designing a kit that covers an athlete's entire body: It couldn't be too loose-fitting, it had to breathe, there had to be some sort of head and hair covering.
The Cut chatted with Sally Bergesen, founder and CEO of Oiselle, to talk about what goes into making an outfit that provides full coverage without making running a marathon impossible.
What made the process of designing this different from a traditional runner's outfit?
First off, she is a celebrity in her own right, having been the first female Saudi runner at the Olympics in 2012. That was a huge moment for women around the world. And since then, she's slowly pushing open the door. Saudi Arabia now has four women athletes at Rio! It's amazing how simple but powerful clothing can be, both as a personal tool and as a symbol of huge things like personal freedom and empowerment.
Everything about her kit had to provide both coverage and cooling. The hat she'll be wearing, the Roga Hat, is made from a high-performance stretch woven that has its origins in the swim world — mostly for its quick-drying abilities. The head coverage was important, but also the visor for keeping the sun off of her face.
What about the tightness, cut, and stretch of the fabric? How did you know when there was enough coverage?
Sarah's top is probably the most high-tech piece of her uniform. The fabric, known as Polartec Delta, has a property we call HoverFit — it contains small nodules on the inside that touch the body, but in between these nodules, the surface of the fabric is raised away from the skin. This allows sweat to move from the surface of the athlete's skin into the part of the fabric that isn't touching. It cools the athlete and provides better evaporation. What does this all mean to the layperson? It feels as though it's floating on your skin, and even after an intense long run or workout, it doesn't feel wet or sticky.
Panels of the Delta fabric were cut into the chevron pattern you see on the front chest. In addition, a very lightweight fabric known as Plya Veil is used at the sleeves and around the waist to cover the rear. Again, this is all about coverage that doesn't create weight or heat. All parts of the body needed coverage, but nor was it appropriate to have a tight, body-conscious fit. Arm sleeves top it off, and a color consideration to Saudi Arabia, with their vibrant green national color. And because she's running the marathon, all of this needed to work for 26.2 miles in the Rio heat.
How does this compare to what she wore in her last Olympics?
What I know about her appearance in London 2012 is that it was a fast decision, quite close to the start of the Games. She purchased some items in the weeks leading up to the event that checked all the boxes in terms of coverage — but may not have fulfilled her design wishes. But that moment was much less about what she wore than the fact that she was there at all. I had that same feeling working on this project in that, yes, the design was key — but it was really all about her and her vaulted role in the bigger story of women in sports — on a global level.
This interview has been condensed and edited for clarity.