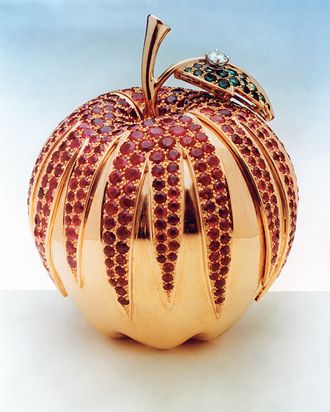 The ruby-studded golden apple from 1976.
Photo: © Cartier
In 1917, Pierre Cartier hoped to purchase a limestone mansion on Fifth Avenue. In exchange, he offered a $1 million pearl necklace admired by the wife of financier Morton F. Plant, who owned the building. Mrs. Mae Plant wore the double strand of pearls, Cartier (grandson of the French jeweler's founder) lived on the top floors, and the rest of the house became Cartier's flagship store, a New York City landmark.
After a two-and-a-half year renovation, the Cartier mansion will now re-open in early September, with an elegant set of stationery dedicated to another Cartier story: a ruby-studded golden apple from 1976. Forty years ago, New York City mayor Abraham Beame commissioned Cartier to create a life-size golden apple for auction at a fundraising gala, which Cartier would host. Studded with rubies, emeralds, and a single two-carat diamond, the golden apple housed the miniature pendant necklace pictured above, which is the inspiration behind the new stationery line.
Click ahead to preview the designs, to be sold exclusively at the Cartier mansion.