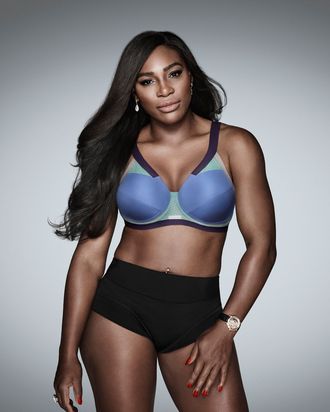 Serena Williams in Berlei's Shift Extreme Impact sports bra.
Photo: Courtesy of Berlei
Serena Williams cannot recall the last time she had to wrestle a sweaty sports bra over her head after practice or a match. This is not because the tennis great has people to dress and undress her like a modern-day Marie Antoinette, but because all of her sports bras have hooks in the back so she can simply unclip and peel them off.
This is the genius of Australian brand Berlei, whose sports bras she's been wearing for almost 15 years. "I vaguely remember pulling a bra over my head," Williams told the Cut. "Because once I tried [Berlei] … literally I've never taken it off since."
Williams is a D cup, sometimes a double D, and she knows the pain of trying to find good bras for her size. "Back when I first started, there weren't a lot of things for women with a larger bust, especially in sport and sports bras," she says. "We were in Australia and my mom found this bra and she was like, 'Serena, I really think you should try these bras.' I'll never forget her calling me and telling me that."
Berlei doesn't market itself specifically as a brand for those size D and up, but it does sell a range of bras with underwire. This is a little unusual in the gymwear world — Serena says she thought it was "weird" at first — but it's welcome news for larger-breasted women who have trouble finding sports bras that actually work.
"I think it makes a world of difference in really supporting you," she says. "You don't want to tear those [Cooper's] ligaments because then you call on different doctors [laughing]. I think it's really important for all sizes, especially if you're working out, to take your bra seriously."
Berlei has been making bras since 1917 so it should come as no surprise that its sports bras, which have been around for about 30 years, come in standard band and cup sizing. The low-, medium-, high-, and extreme-impact styles are available in sizes ranging from 30A to 46DDD, with prices ranging from $35 to $68. The extreme-impact Shift bra that Williams is pictured in is $54. Every style has adjustable straps, many of which are convertible so you can get the racerback feeling and hide the straps underneath your workout tanks.
And the bras meant for higher-impact sports are not like the typical boob-smash styles you're used to seeing. "I can't really compare them to anything that's currently on the market," says Kellie Warwick, Berlei's senior marketing manager. "A lot of the crops, the pullover styles, they're all based on compression and flattening you out to try to stop the breasts from bouncing, whereas Berlei is all about single-breast encapsulation." Music to the ears of double and triple D cups.
"It's like a regular bra because it gives you that support that you need around your rib cage, it gives you a ton of support through the seaming and through the actual cup," Williams says. "I'm literally jumping, running, sprinting, sliding, we're doing a lot and for all that kind of work, [the bra] is pretty impressive."
Her sister Venus is also a fan. "My sister's a B and she loves them just as much as I do. It doesn't matter what size in the spectrum of bra sizes you are, you really want that support and you want to be able to go out and be confident in your field of athletics or just doing sport," she says. "And beyond that they're super cute."
Berlei is now available at Macys.com and 50 stores nationwide.