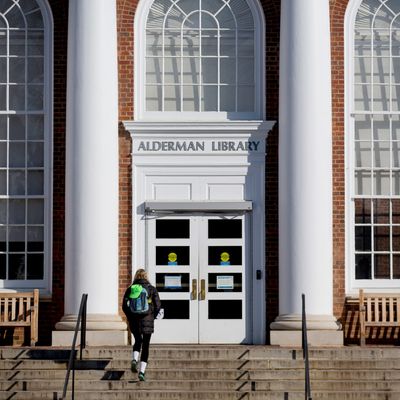 The University of Virginia.
Photo: Andrew Harrer/Bloomberg via Getty Images
Classes at the University of Virginia begin today, but orientation weekend was overshadowed by a report of sexual assault. According to the Richmond Times-Dispatch, a female student was approached from behind around 1 a.m. Saturday morning and threatened at knifepoint — the suspect then pulled her off the sidewalk and assaulted her.
But although the assault occurred Saturday morning, many new students weren't notified until Sunday due to a glitch in the university's email system. Teresa Sullivan, the university president, didn't mention the assault during her Saturday-afternoon welcome address, but she did bring it up during the opening convocation Sunday afternoon, saying there was "no place" for "violence of any kind" at the school. "We condemn it and we will not tolerate it," she said.
Police describe the suspect as a "white male between 20 and 30" of "average height" with "light-colored hair." They added that they haven't made an arrest in the case.
Sexual assault on campus is always horrifying, but it's an especially touchy subject at UVA; the university is still fighting a legal battle against Rolling Stone based on a student's story of sexual assault that the magazine ultimately retracted. So far, police have found no evidence to support the account, and although the victim testified in the lawsuit, transcripts of her testimony remain sealed.