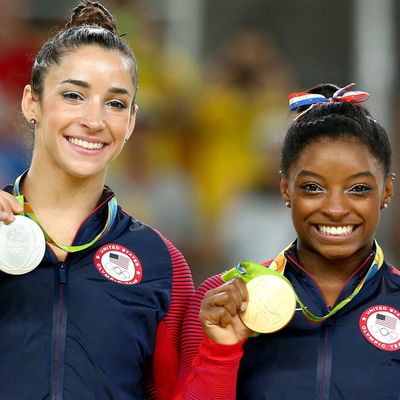 Shine Theory in action in gymnastics and track.
Photo: Getty Images
On Tuesday morning, American runner Abbey D'Agostino and New Zealander Nikki Hamblin were 3,000 meters into a 5,000-meter race at the 2016 Olympics when D'Agostino clipped Hamblin's heel. The two women tumbled to the ground. "Suddenly there was this hand on my shoulder," Hamblin recalled. It was D'Agostino saying, "Come on, get up. We have to finish this race."
D'Agostino helped Hamblin to her feet. But D'Agostino had twisted her knee and couldn't run. So Hamblin stayed behind and supported her until D'Agostino could hobble on her own. Then she urged Hamblin ahead. They both crossed the finish line and will run the 5,000 meter final on Friday.
The women of the 2016 summer Olympics are jaw-dropping. I'm in awe of their ability to flip and contort and hurtle their bodies through space in ways I can only comprehend with the benefit of slow-motion replay. But I've also been struck by the way they support other women's efforts to be their best, too. Women athletes competing in Rio just might be the ultimate Shine Theory icons. Although they are pitted against other women in a direct competition for a limited number of medals, they are openly supportive of each other. Despite incredible pressure to win, most of them clearly see their success as tied to the success of other women.
Male Olympians are out here training their dressage horses to dance to "Smooth" and forgetting to take their phones out of their pocket and refusing to shake hands after a judo match. Women Olympians aren't just breaking records, they're setting a new paradigm for professional success. And those of us who aren't top-ranked athletes could learn a few things from them.
Even if we believe, in theory, that as women we should invest in other women's success, it can be hard not to see things as a zero-sum game. Deep down, many of us still believe that if another woman wins a promotion or a project (or, let's be real, a happy romantic relationship), we won't. The fewer women in your industry or social group, the more plausible this fallacy seems. Zero-sum success is actually true at the Olympics, where in certain events even teammates compete against each other to earn one of just three medals. And yet here are women fencers and gymnasts and tennis players openly cheering each other on. You can find examples from almost every event in Rio.
Before the Games even began, dominant U.S. gymnast Simone Biles was genuinely saddened to learn one of her top competitors, Larisa Iordache, would not be competing in Rio because the Romanian team did not qualify. "Does this mean Larisa doesn't get to go? That's so sad," Biles reportedly said. In Rio, after Biles won the gold in the all-around competition, she told ESPN, of her teammate Aly Raisman, "I think I was more proud of Aly getting silver than me gold." U.S. gymnastics teammates Laurie Hernandez and Madison Kocian left Raisman a note on her bed: "We've looked up to you from the beginning of our entire careers and you've inspired us in so many ways!" Biles also tweeted a childhood photo of Hernandez and her with the caption, "who wouldve thought WAY back then we would be competing in Beam finals together at the Olympics." Note her phrasing: Competing together, not against each other.
In fact, the U.S. women's gymnastics squad is so openly supportive that the mere absence of a smile on Gabby Douglas's face was interpreted as bitterness. Douglas quickly set the record straight on her feelings toward her teammates: "I was supporting Aly (who had just lost out on the gold), and I always will support them and respect them and everything that they do."
Meanwhile, over at the pool, swimmer Katie Ledecky stayed up late so she could hug her fellow swimmer Simone Manuel and congratulate her on winning gold (and setting an American record) in the 100 free. "I'm shaking. So proud of you," Ledecky tweeted. Their fellow Rio roommate and teammate Maya DiRado recalled, "There were so many tears last night, Katie was so excited for Simone, we were all crying. Emotions were so high, everyone was so supportive of each other."
Perhaps women athletes' extraordinary mutual support has to do with the gender-segregated nature of the Games. Historically same-sex education has been touted as a way to teach girls to be more competitive — but the research doesn't bear that out. Ask graduates of all-women's colleges what they gained from their experience, though, and they often say "confidence." What's more confident than knowing that another woman's success does not diminish your own?
Women Olympians have some clear advantages over the rest of us struggling with the complicated politics of the average office or social scene. I'm sure that cheering for other women is a lot easier when you are explicitly working together to earn points or move a boat over a finish line. The U.S. women's water polo team is the favorite for gold, and the U.S. women's rowing team has dominated the sport for the past 10 years. "The whole women's rowing program is about pushing each other," says U.S. oarsman Meghan "Moose" Musnicki, who not only has a delightful nickname but a good take on how teamwork and competitiveness can actually coexist: You push each other to be your best while working toward the same goal.
Of course, especially in team events, there are many examples of male athletes rooting for each other, too. But the women in this Olympic Games are so vocal and unflinching in their support. And at a time when too many women still see each other as de facto competition for everything from male attention to professional promotions, the Olympians are a shining example of the greater rewards that await if you can work past all that, together.
"When someone asks me what happened in Rio in 20 years time, that is my story," Hamblin said of her moment on the track with D'Agostino. "She is my story."