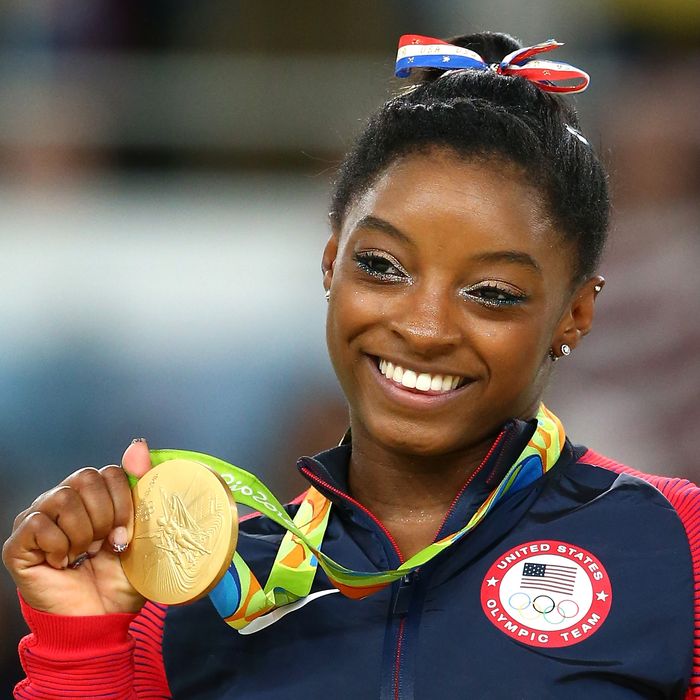 Photo: Alex Livesey/Getty Images
Simone Biles lost a whole lotta pictures from the Olympics thanks to an iPhone-syncing snafu, but that isn't slowing her down a bit. The extra-smiley Olympian, who made a pit stop at the Houston Methodist Willowbrook Hospital for a quick Q&A with reporters, said that she has a very specific goal in mind for tonight's Video Music Awards.
"I'm gonna meet Kim Kardashian, and then I'm going to send her daughter some leos, so I'm set on doing that. My signature leo line, not just any leos — the Simone leo line from GK." ("Leos" are what the cool kids call leotards, y'all.)
As for the pictures, Biles said, "I got a new phone yesterday because my other one was, like, bugging out, so I tried to send all my photos to my iCloud and my computer, and it was downloading all the way! So I took my phone to the store to get a new one, and when I got back, I don't know what happened! Because I'm not a tech wizard! So I lost everything. But most of the pictures are online so it's okay."

Other pertinent questions Biles answered included what kind of grill she'd have if she got one (what hast thou wrought, Ryan Lochte?), and what it's like to deal with enthusiastic fans.
"I'm like, why are you guys freaking out? Like, who's here? But it's just me." Seriously, Zac Efron! Play it cool, man.