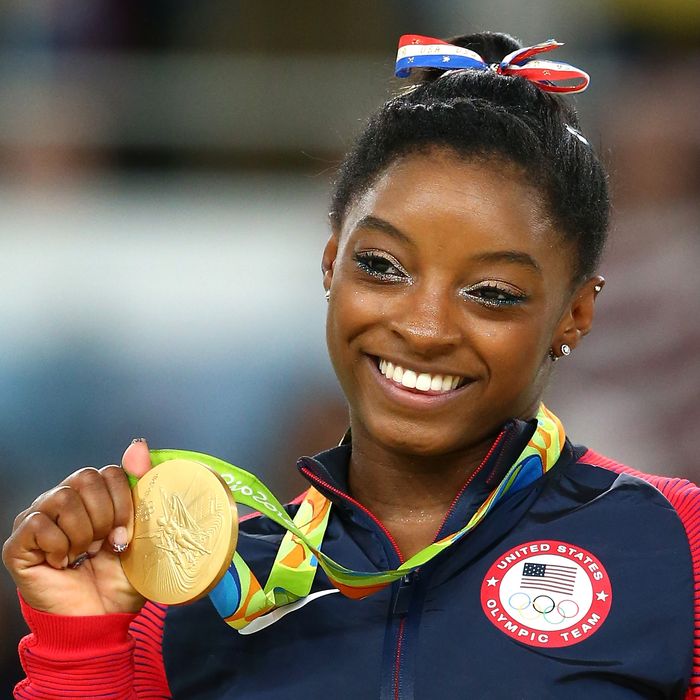 Photo: Alex Livesey/Getty Images
Simone Biles has had an extraordinary two weeks at the Olympics, but she's got one last thing to do before she and the rest of the Final Five start making the media rounds. Biles has been selected to carry the flag for Team USA in the Olympics Closing Ceremony, which will take place on Sunday evening.
Biles took a sec to make an official statement in between killing it at Olympic events, cheering on other members of the Final Five, and meeting up with famous fans like Leslie Jones and Zac Efron.
"It's an incredible honor to be selected as the flag bearer by my Team USA teammates. This experience has been the dream of a lifetime for me and my team and I consider it a privilege to represent my country, the United States Olympic Committee and USA Gymnastics by carrying our flag. I also wish to thank the city of Rio de Janeiro, and the entire country of Brazil, for hosting an incredible Games."
Biles batted down the rumor that she'll be joining Dancing With the Stars for its 23rd season, telling E! Online, "I would love to do Dancing With the Stars, but so far we have a three-month tour after this Olympics. I'm not sure if I'll have time." That said, she didn't rule out a spring fling with DWTS. "I would really love to do it in the spring if that's possible," she said. After all, what are a few gold medals compared to a fancy mirror ball trophy?