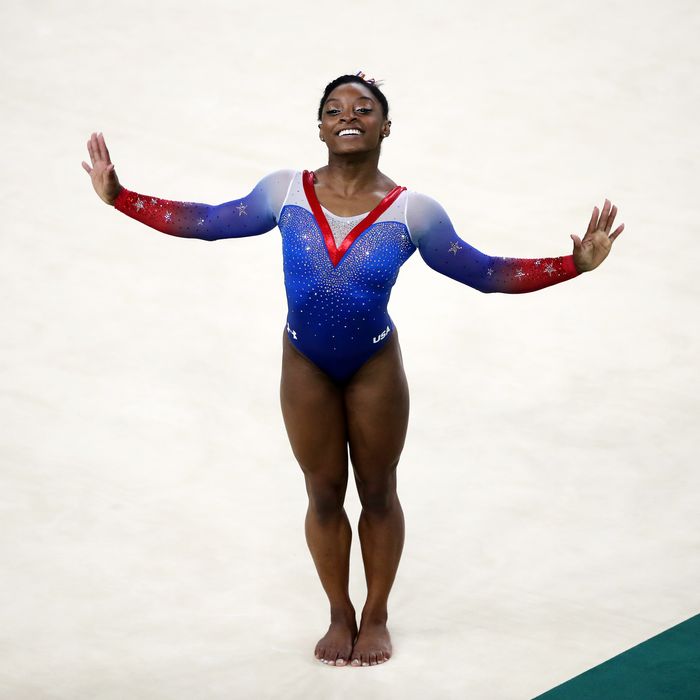 Photo: Julian Finney/Getty Images
Alright — if there was any doubt in your mind that a 4'9" gymnast from the United States owned the 2016 Olympics, you can safely put that doubt to rest. Simone Biles, in all of her petite, air-defying athleticism, was the ultimate breakout star of the 2016 Olympics. And, on Sunday night, during the closing ceremony, it seemed every top athlete from around the world wanted a slice — er, a selfie — with Biles.
Biles had the honor of carrying the American flag during the closing ceremony on Sunday. But as luck (and fame) would have it, other athletes from various countries kept stopping Biles during the ceremony to take the perfect selfie with her. As one NBC commentator put it, "They're trying to get a Biles smile."
Biles may have made history when she won five medals at her very first Olympics (four gold and one bronze), but she was still a little nervous about carrying a flag that was about twice her size. "I'm afraid the flag is going to be too heavy for me," Biles told reporters during a press conference ahead of the closing ceremony. "Because Michael Phelps is so much taller and he seemed to carry it so easily, and I'm very short, so I'm a little worried about that part, but I think they'll guide me through it."
So many people were trying to take a selfie with Biles that it was almost as if a "conga line," was forming around her. Twitter users also didn't hesitate to praise Biles not only for her sportsmanship, but also for her innate ability to keep on smiling.
This has turned out to be one heck of an Olympics for the 19-year-old.