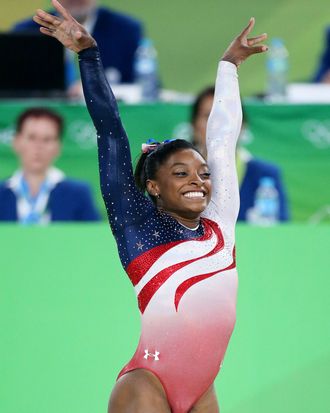 Simone Biles, triumphant.
Photo: Jean Catuffe/Getty Images
Simone Biles had been a shoo-in for the Olympic gold in the women's all-around competition since she won her fourth consecutive national title in June (and, let's be honest, probably even before that). So the Texas native fulfilled her destiny on Thursday afternoon, successfully following in her team's footsteps. Biles's final score was 62.198, which was a full two points higher than that of her closest competitor.
She started off on vault, one of her stronger events, where she scored 15.866. (She scored a 16 in qualifiers.) She scored a 14.966 on bars, allowing Russia's Aliya Mustafina to pull briefly into first place. But Biles was back on top after beam with a 15.433, and by the time the athletes moved to floor routines, she had a full 1.5-point lead. Her floor routine was, of course, immaculate, earning her a 15.933 — the best score of the day.
Raisman, meanwhile, took the silver medal with a strong floor routine, beating out Mustafina, who narrowly beat her in 2012. She cried. We cried. They hugged. And the Final Five took their rightful place in Olympic history.