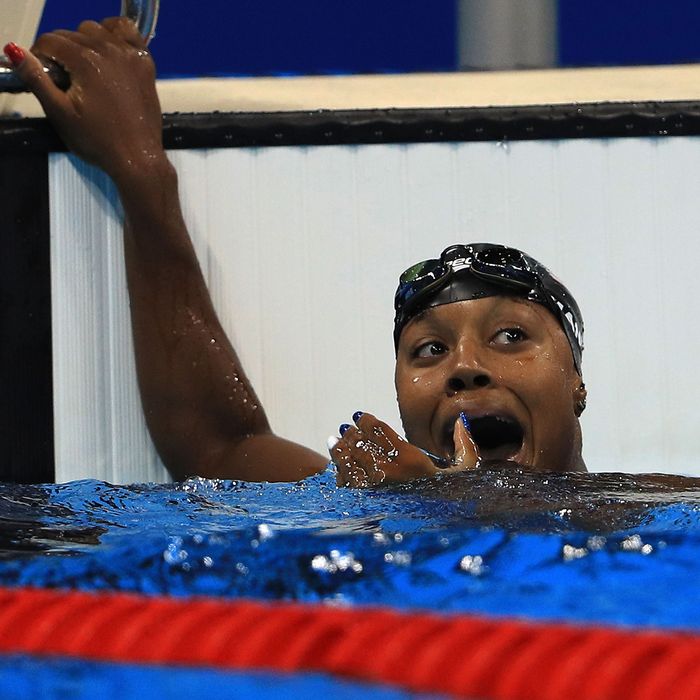 Photo: Mike Ehrmann/Getty Images
Simone Manuel didn't just make history Thursday night when she became the first black woman to win gold in an individual swimming event. She also gave us one of those priceless moments that make the Olympics worth watching.
Her win came as a surprise to many — including, it seems, herself. This was the first Olympics for the 20-year-old Manuel. During the night's 100-meter freestyle event, she started off slow and wasn't one of the top-three swimmers leading at the final turn. Indeed, she was far behind the others in the pool, including Australian favorites Cate and Bronte Campbell. But something magical happened soon enough and Manuel sped ahead with the grace and speed of a mermaid who was in her element. She touched the wall with a record time of 52.70 seconds, dead even with Penny Oleksiak, a 16-year-old Canadian.
When Manuel looked up, she put her hand over her mouth in disbelief at what had just happened. She'd tied for gold.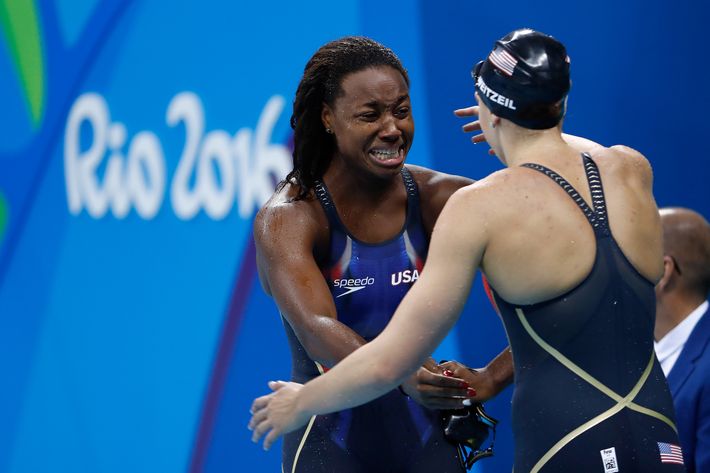 Still in the water, Manuel smiled and hugged Bronte Campbell of Australia. She cried as she hugged Oleksiak. She raised a finger toward the sky.
Once out of the water, Manuel was composed. She seemed to still be processing her win as she did an interview with NBC. "I don't know, all I can say is all glory to God," she told the reporter. "I mean, it's definitely been a journey these past four years. And I'm just so blessed to have a go­­­­ld medal. I'm just so blessed."
Midway through the interview, though, she was overcome with emotion when the reporter asked Manuel what it meant to her to be the first African-American woman to medal in an individual event in swimming. Still soaking, she wiped away tears.
"I mean, this medal is not just for me, it's for a whole bunch of people who have come before me and been an inspiration to me," she said. "It's for all the people after me who can't, who believe they can't do it. I just want to be an inspiration to others so that you can do it."
Manuel's win for the night might have been a surprise to some, but not to those who knew her strengths. "She's a great closer," Greg Meehan, her coach, previously told the Houston Chronicle.
Swim on, Simone. Swim on.