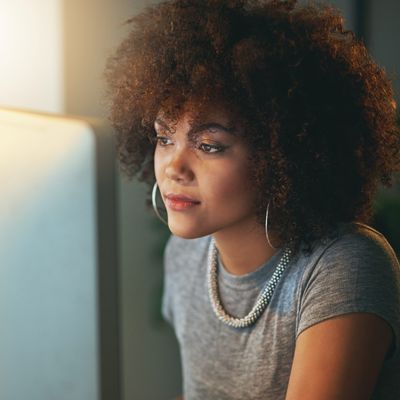 Photo: Yuri Arcurs/Getty Images/iStockphoto
Today you may be seeing the hashtag #BlackWomensEqualPayDay circulating around social media. That's because in order to make the same amount of money that men did in the previous year, black women would have to work until August 23 the following year. For every dollar that a man earns, black women in America earn roughly 63 cents. And even worse: Native-American women's equal pay day this year is September 14, since Native-American women still only make 59 cents to a man's dollar.
And while all this talk about closing the gender pay gap gives the illusion that we're making progress, a new report reveals that that hasn't necessarily been the case. Between 2004 and 2014, the Institute for Women's Policy Research found that Native-American and black women's wages declined by at least 5 percent, which is three times more than women's earnings overall. For black women for the past ten years, annual earnings decreased by 5 percent and for Native-American women they decreased by 5.8 percent.
Overall, women's wages decreased by 1.6 percent. Unsurprisingly, white women's wages saw the smallest decrease, shrinking over ten years by 0.3 percent, and the wages of women who identify as Asian/Pacific Islanders wages actually increased by 1.2 percent.
The gender pay gap sucks for every woman — but unfortunately, it continues to be worse for some than others.