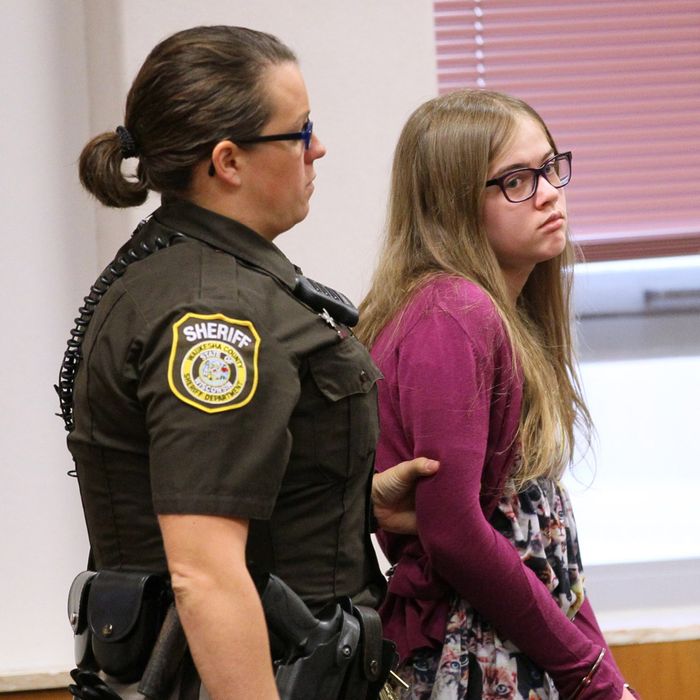 Photo: Michael Sears/TNS via Getty Images
Morgan Geyser, one of the girls charged with attempted murder in the Slender Man case, is pleading not guilty by reason of mental illness.
Geyser and schoolmate Anissa Weier are charged with attacking and stabbing a schoolmate 19 times in order to curry favor with Slender Man, an extremely creepy but entirely fictional character that's the subject of fan fiction and art among younger denizens of the Internet. Their victim survived the stabbing and crawled to safety; she returned to school three months later.
Weier has also pled not guilty, but without the added claim of mental illness. They were both 12 at the time of the attempted murder and are both being tried as adults, despite protests from their lawyers, Geyser's mother, and assorted criminal-justice advocates.
Two court-appointed doctors will examine Geyser, who was diagnosed with schizophrenia and oppositional defiant disorder, before the judge makes his ruling in the case.
The Slender Man mythos has attracted a larger pop culture interest since the attempted murder brought it out of the shadows of the Internet. Rumors were flying last January that the next season of American Horror Story would be about the character, although the teasers FX has been releasing in anticipation of the September premiere haven't revealed much. In May, news broke that Sony is planning a film about the Slender Man.
The case heads to trial in October.