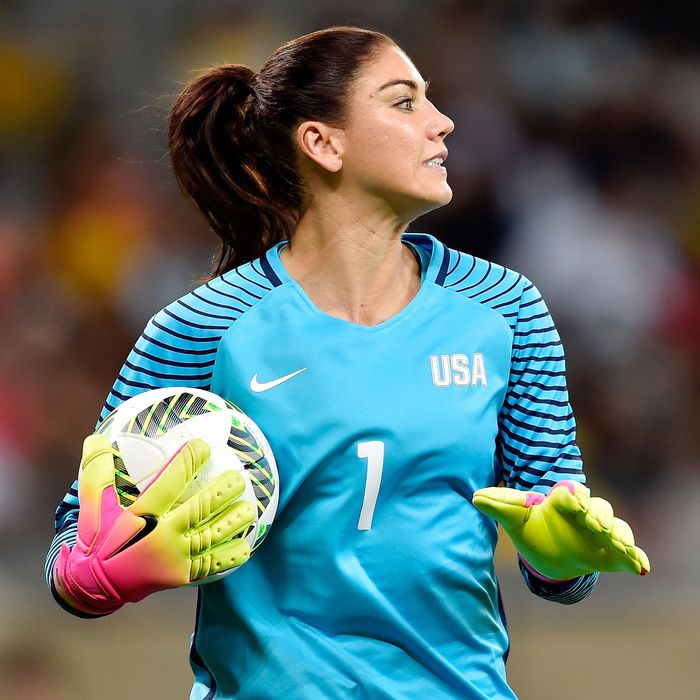 Hope Solo.
Photo: Pedro Vilela/Getty Images
Hope Solo, the goalkeeper for the reigning Olympic champion U.S. Women's National Team, has been just a little outspoken about the Zika virus in the lead-up to the Games. First she said she didn't want to go to Brazil, but in May she said she'd "begrudgingly" attend — but wouldn't leave her hotel room outside of practice and games. And then there were those recent tweets with all that bug spray. Well, last night during the tournament opener in Brazil, it was Solo who got an earful instead.
People in the stands tweeted videos of her getting booed every time she touched the ball and yelling "Zika!" every time she kicked it away.
She was apparently unfazed as the U.S. went on to beat New Zealand 2-0.
Experts say that the peak of the Zika epidemic in Brazil is long gone and that there's very little risk of contracting the virus now that it's winter in Brazil. In a strange interview with the Associated Press on Monday, Solo blamed the media for spreading fear about the virus, saying it was "unfortunate" that they were being so tough but it's par for the course with the Olympics.
"You look back in 2004 in Greece, and the same thing there, bad publicity surrounding the Games, and China as well," she said. "I don't know why, but we like to sensationalize everything and scare people and then … when the games go on, everything goes on as planned, ends up being a beautiful tournament. And I expect no less here."
She explained that she and her husband had spoken to three infectious-disease doctors about how to protect themselves. "I'm wearing mosquito repellent just in case, I know the odds are very small but you can never be too safe," she said. "I'm at a point in my life that I just want to be safe."
Understandable, but, uh, maybe Solo should share some of the blame for sensationalizing.