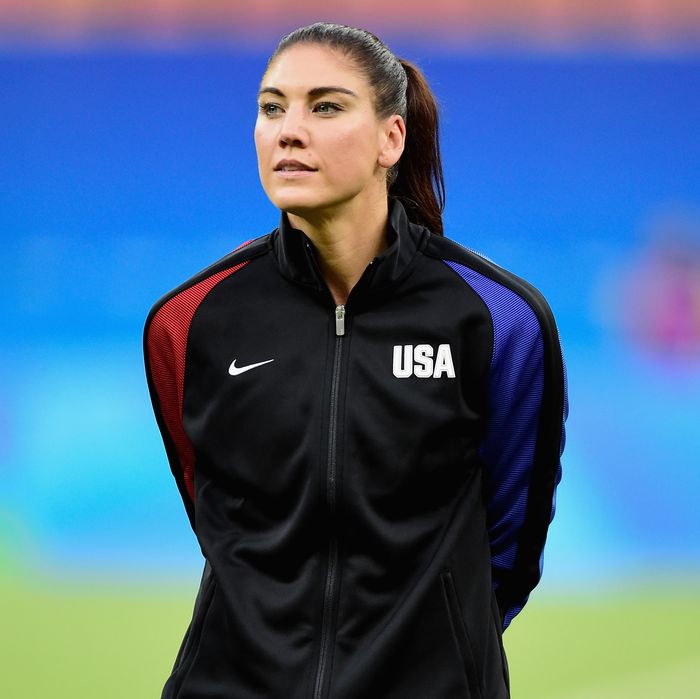 Photo: Bruno Zanardo/Getty Images
The Seattle Reign quietly announced on Twitter yesterday that goalkeeper Hope Solo was "granted a personal leave" and would be replaced by Andi Tostanoski in last night's game. The team hasn't officially announced when or if Solo will return, leaving fans to wonder what the future holds for the goalie's career.
Solo got into trouble with the U.S. Soccer organization for calling the Swedish team "a bunch of cowards" after Team USA was eliminated in the quarterfinals. U.S. Soccer terminated her contract and suspended her for six months.
During the opening soccer game at the Olympics, onlookers booed and yelled "Zika!" at her while she played because of previous comments she'd made about her fears of contracting the disease while in Rio.
Some have wondered why Solo has gotten the shaft when Ryan Lochte, for instance, is merely doing an apology tour and got a new endorsement deal. The lawyer for the U.S. Women's National Team Player's Association, Rich Nichols, has said that her treatment was "excessive, unprecedented, disproportionate, and a violation of Ms. Solo's First Amendment rights," adding, "She was fired for making comments that a man never would have been fired for."
This is Solo's second suspension; she was suspended for 30 days in 2015 after her husband was charged with a DUI while she was a passenger. In 2014, Solo was charged with two counts of domestic violence in a case involving her half-sister and nephew. Her bid to have the case thrown out was denied in June 2016, and it's not clear when the case will go to trial.