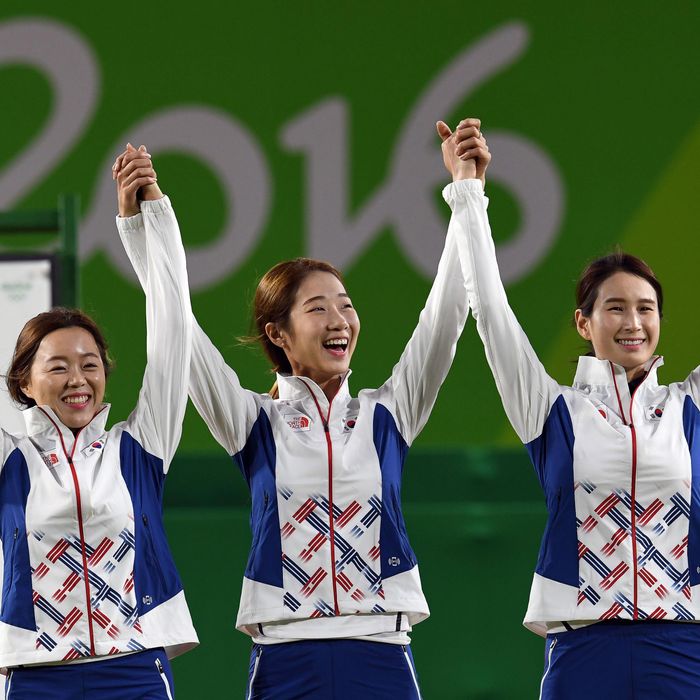 Photo: Jewel Samad/AFP/Getty Images
Ever wonder where you'd go or who you'd ally with in a dystopian future? Well, if The Hunger Games ever becomes a reality, get thee straight to South Korea. The country, which already holds nearly every world and Olympic record, took gold in every archery event in Rio, dominating both the men's and women's team competitions, as well as the men's and women's individual competitions. That brings their gold-medal count to 22 (38 medals total) since joining the sport in 1984. The United States is next in line … with eight.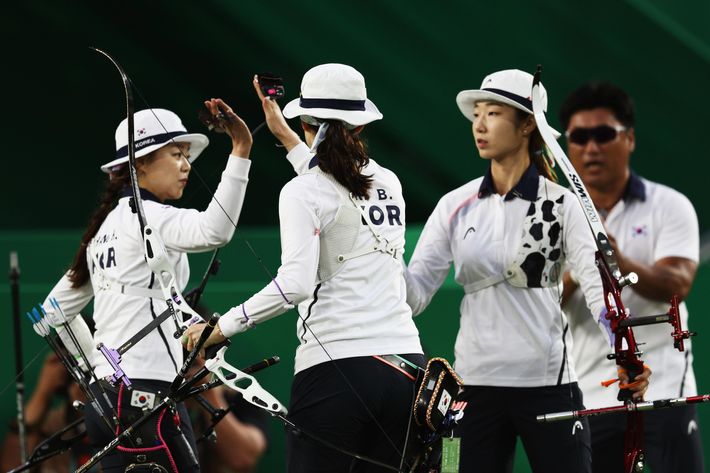 But it's the women whose dominance is truly remarkable. The team gold they won on Sunday was their eighth straight team gold medal, out of the eight times the team competition has existed. The individual gold that total baller Chang Hye-jin won yesterday was South Korea's 16th, out of the 17 that have ever been awarded. And she's only the third-highest-ranking South Korean archer in the world! For Chang to get to the gold medal round, she had to beat out her teammate, world-record-holder and defending gold-medalist Ki Bo-Bae, who still got the bronze in Rio. And it might've been a podium sweep, had Choi Mi-sun, ranked No. 1 in the world, not lost in the quarterfinals.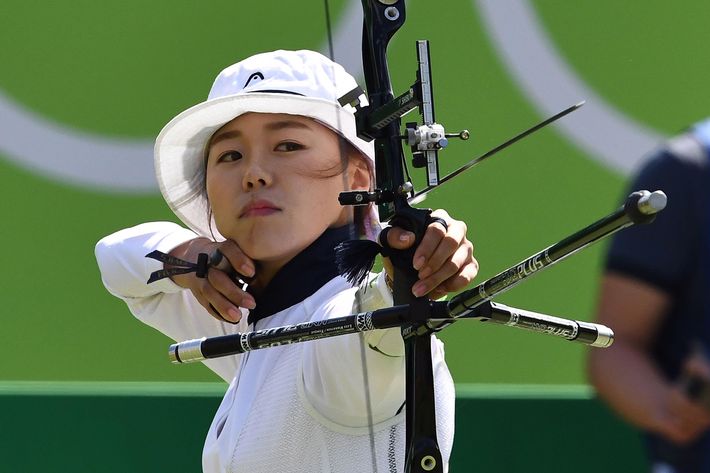 It's impossible to watch their steely concentration and bull's-eye after bull's-eye and not wonder whether they ever have friendly arguments over which one of them is the true Katniss Everdeen of the team. (Answer: all of them.) They've even got the rest of the field copying their bucket-hat game. Who needs chariots and outfits made of fire when you can instead flex your power by making everyone in the sport dress like Gilligan from Gilligan's Island? These are the bow-and-arrow-slinging badass bitches you want by your side when shit gets raw. Mockingjays, one and all.