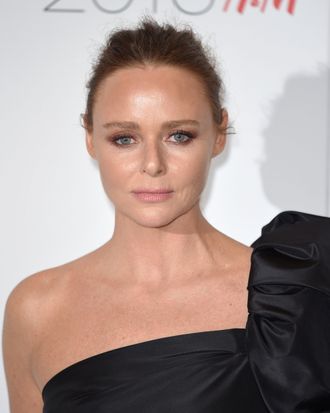 Stella McCartney launches her new female empowerment fragrance, POP.
Photo: Karwai Tang/WireImage/Getty
There are hundreds of fragrances bottled each year, all hoping to capture the essence of joy, sex, love, or seduction. But female empowerment? Not so much — until now.
Designer Stella McCartney's new POP fragrance endeavors to create a "juice" that she hopes will show that "strong young women are a force to be reckoned with." The millennial-pink video for the fragrance, shot by Melina Matsoukas, features media-friendly young women like Grimes, Amandla Stenberg, Kenya Kinski Jones, and Lourdes Leon. The Cut talked to McCartney about how she created the scent, how feminism relates to fashion, and why the industry has a long way to go in terms of ethics.
What do you consider to be your own POP moment — a moment when you came into your own?
I've been very fortunate. I've had a few POP moments. The biggest one for me was being a young woman, leaving home, and truly finding out who I was, what I loved, and popping into the next stage.
Then it was when I moved to London. But, also, my first holiday with my girlfriends to Italy. We had a real shoestring budget, stayed in the same room, and bused our way everywhere. But it was so liberating to feel like it was the first time doing my own thing.
What's your first scent memory?
I have many. Nature is a big part of my scent memory bank. One is the lovely memory of horses and growing up on a farm. I remember the smell of hay or hops being grown and flowers like lavender and gardenias. Tuberose fragrance was a favorite of my mom's.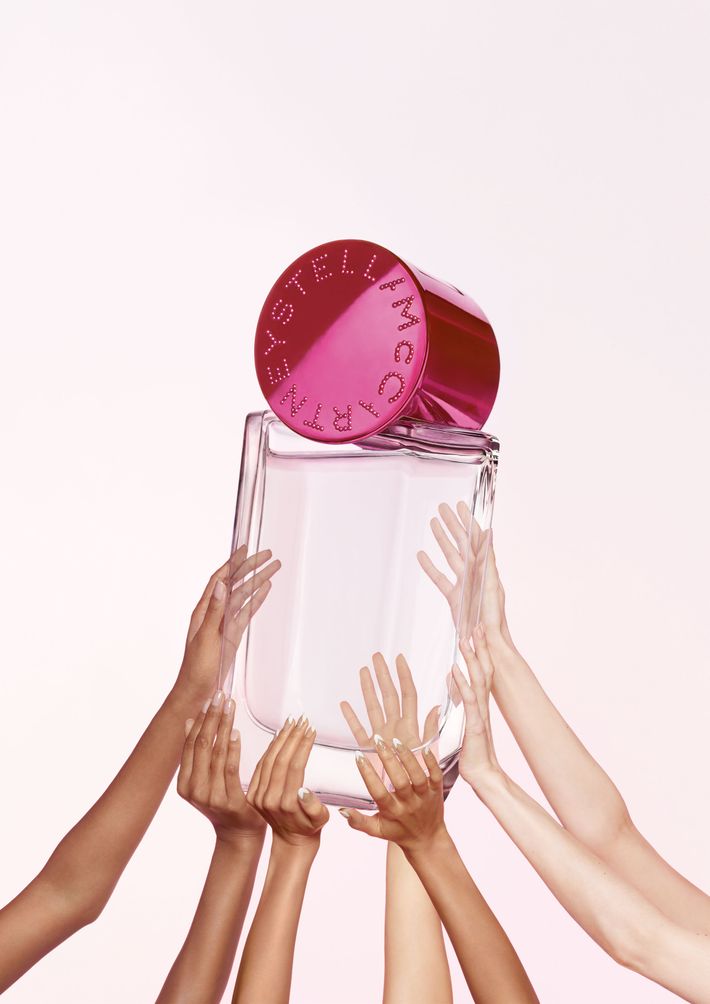 What do you think of feminism as it relates to fashion? Do you think certain types of clothing or design can be considered un-feminist?
Yes, of course. It's a mind-set. Fashion is an emotion. On the whole, we can make obvious points about feminism and fashion. There are moments where someone can look at what a woman is wearing and say, "She's not feminist." But you can't speak to that. She may be using her femininity or sexuality in a way that makes her feel in control. It's best to reserve judgment and really try to encourage women and fashion to be more pro-women. Do that rather than to pass a judgment and say what's wrong. Point out the positive and encourage change.
How did the female-empowerment message impact the way you thought about how the scent should smell? What were your notes to the perfumer?
I really wanted to have a sense of history in the scent. We did that with the tuberose — we wanted to remember past generations. The tuberose conveys not forgetting the past and having a certain level of grace and movement. It's fragile and beautiful. We made it modern with the sandalwood, which adds some masculinity.
There was no brief. I don't work with briefs. I'm more intuitive, and when I can't be intuitive, I flinch and rebel completely. For me, a starting point was that I wanted to respect and speak to a younger generation of women. I wanted to pick girls who represent the brand in casting. They all had a voice and had something to say individually. I felt it was right to do in beauty. Beauty can have moments where it's not terribly modern in the way we speak.
How so?
Women can be portrayed in beauty when it's just showing them at their worst. It's not fun, not beautiful, not talented, not young enough. The girls are stunning, but they're equally beautiful inside and have something to say. You don't always see that. Beauty can be quite on the surface, but we wanted to scratch a little deeper.
Everything I do is tied to women. It's about my understanding of them and how I want to make them feel. I want them to be more informed and make more conscious decisions. Everything I do is based around that — so it would have been weird to have something out there, tied to me, that didn't have that approach.
I'm sure that growing up with a famous last name comes with its set of challenges. Was it difficult for you to strike out on your own because of people's misconceptions?
It's a double-edged sword. It's been a huge door-opener — I've had such privilege and opportunities. But at the same time, I've encountered closed minds. I had to wait a little longer to pop in my field because of people's perceptions. I had to spend a long time proving that I was capable as a fashion designer and a woman owning her own business.
Your line is much admired for its commitment to ethical sourcing. Does it surprise you that it's taken so long for other design brands to follow suit?
Yes, sadly. It is a shock that I am the only one doing it in this way. In luxury fashion, they think that moving forward or change is scary. But moving forward is as important as respecting history and fashion. You can do the two together. Every other industry has to answer to the environment and be more mindful, and luxury is in danger of being left behind. They need to stop killing animals. You don't have to. You don't have to sacrifice quality or luxury to not kill animals.
What's the POP moment you hope for the fashion world?
I hope the fashion world pops into the future by starting to source and manufacture in a more responsible and cruelty-free manner. We need to work more with technology and be more mindful of other fellow creatures. We need to know where leather come from. Hundreds of animals are killed every year in fashion. I hope that the people in power will pop into a more kind way of making fashion.
This interview has been condensed and edited.