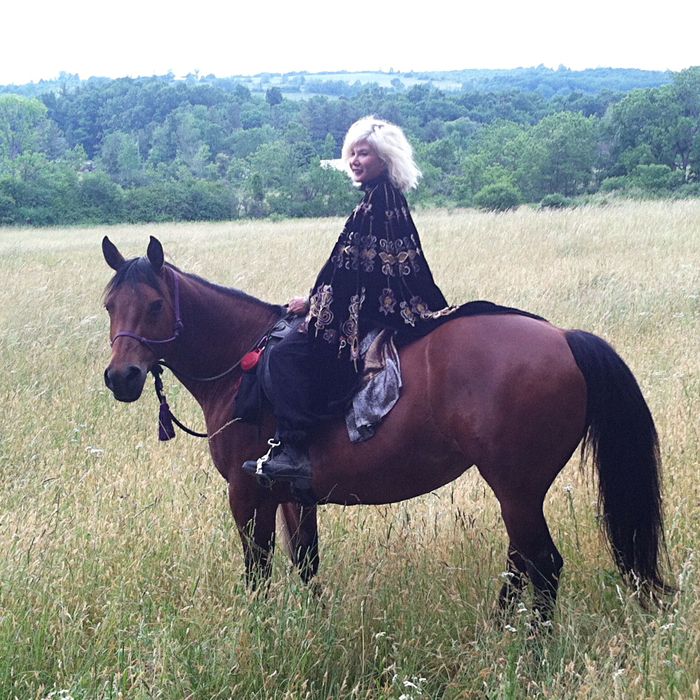 Tama Janowitz.
Photo: Courtesy of the author
"Wear jeans and hiking shoes or paddock boots as we will be with the horses and berry picking," the writer Tama Janowitz texts me at 9 a.m. on a Saturday, planning an idyllic day in upstate New York.
When she picks me up two days later in her Subaru Outback at a bus stop on the Cornell University campus, it's raining. Her famous mound of curly hair is now platinum blonde — she started bleaching it when she went gray — and she's wearing a gray T-shirt and jeans and black mud-covered boots topped off with fuchsia lipstick. A fanny pack filled with packs of Nicorette, treats for her quarter horse, Fox, and an iPhone sits around her waist. She's the youngest looking 59-year-old I have ever seen.
Janowitz moved to Ithaca in 2011 to care for her mother, the late poet Phyllis Janowitz, and then, in 2013, she moved farther into the country, to a tiny town called Burdett where she bought an 1850s farmhouse surrounded on three sides by Finger Lakes National Forest. Her latest book, Scream: A Memoir of Glamour and Dysfunction, delves into her country life, relationship with her eccentric father — she calls him "lascivious" — who lives on western Massachusetts swampland, an adolescent year spent in Israel, a disastrous summer guest-editing at Mademoiselle à la Sylvia Plath. It feels a long way from the more familiar vision of Janowitz of 30 years ago who posed on the cover of New York Magazine in an evening dress in a meat locker next to her apartment in the Meatpacking District, back when it was a grimy, working neighborhood. She was fresh off the success of her book Slaves of New York, a collection of interconnected short stories about New York City strivers. There are artists and designers and prostitutes, sex and drugs, apartment woes. It's a portrait of downtown Manhattan that is so faded as to be almost unrecognizable. Perhaps that's the key to its cult appeal. Still, plenty of sentiments still ring true, including the book's most famous exchange: "Are you sure there're no available men in New York?" a friend asks her girlfriend. "There're women," says the narrator. "There're hundreds of women. They are out on the prowl."
One of that book's themes is also creative success — or lack thereof. It's something she still thinks about, quite a bit. None of the several novels she's written since have topped Slaves, either in critical reception or sales. "You know how New York is," she says. "You get a success, and even before you're even allowed to have the success they chop you down and say, 'Well, who does she think she is?'" she says. "You know, New York is vicious to its successes." It feels a little like Tama Janowitz has become a grown-up version of a Slaves character, exiled to the country. After all, now that Janowitz's mother has died and her daughter Willow is in college in Vermont, she could move back to the city, but she has zero intention of ever returning. (She lived in the West Village and Prospect Heights for nearly 40 years.) "I have nothing there. I stopped being interested in going out to the latest restaurants. I hated going to gallery openings. Maybe once in a while I'd enjoy the ballet or the opera. I mean, I wasn't using the city anymore. I just would stay in the apartment trying to write."
Her poodle Zizou Zidane jumps back and forth between the backseat and my lap. At one point she owned eight of them, with names like Gertrude Stein and Candy Darling. "I think it was just a midlife crisis," she says.
We pull up to a liquor store and convenience store on the outskirts of Ithaca. "There's a shop where you can get a sandwich, and I'll get my case of cheap wine," she says. "I get Pinot Grigio in summer. The big bottles, and I put a lot of ice in it."
Back in the car, fortified with sandwiches and salad and wine, we wind through country roads for about half an hour toward Newell Farm, where she boards her horse. The two of us sit on a bench overlooking a pond and eat lunch while Zizou wades into the muddy water. "The farm is a great, great comfort to me," Janowitz says. She took up riding as a distraction. "I was thinking I've got to do something that I want to do. I had absolutely no sense of balance but I just stuck with it. I was so upset over my mother and my life, and you just block it out and go with this animal, connected to it."
There is a kind of highly Instagrammable upstate life where creative folk move to Hudson or Phoenicia to tend to their lilac bushes and sourdough starter. Janowitz's country life does not follow that model. She writes about going to a county fair and meeting men who "had the bleak haunted look of men who had never eaten anything outside of the hamburger, mayonnaise, and Dorito food categories … They could have been twenty-five or seventy-five — but they all looked seventy-five." But she also writes that they were more interesting to her than anyone she had met in the city. She ended up falling in love with her contractor, John. I ask if they're still seeing each other. "Yeah. No," she replies. Either way, she IS living in a double-wide trailer he owns. She can't deal with living in either one of the homes she owns in Burdett — they remind her too much of her mother.
We walk up a hill to greet her horse, out grazing. "There's a bubble around your horse, and when you're connected to your horse, you have to choose the size of that bubble," she explains. "Now you can see, she's right up in my face, nudging me for cookies. But you're not really supposed to let the horse do that. You're supposed to be intimate and in control and keep the horse back at a distance."
What started as horse talk ends up looping back around to her relationships with men. "Basically, I have a very big bubble. I need tons of time alone." Her marriage to the gallerist (and former agent for the Andy Warhol Foundation) Tim Hunt was that of two people who needed a lot of space. "His bubble was too big and my bubble was big, so it was like, we're not even together." They're separated but not divorced.
"John has just the right size bubble. I was just happy to make him dinner and hang out and watch TV every night," she says. He's described in Scream in an almost fetishistic way as a blue-collar man's man. "It was pretty exotic to me," Janowitz says. "Were you exotic to him?" I ask. "Not so much."
We take Fox to an arena to groom her. A sign is hung over us that reads, "The wind of heaven is that which blows between a horse's ears." I tell her about how it seems fashionable these days to envy the seedier but creative New York of the '70s and '80s. The cover of Slaves of New York shows up frequently on Instagram and Tumblr, a dog-eared copy held up by, say, a girl with long black nails, captioned something like "mandatory reading for all my artist squad." But the only social media Janowitz is on is Facebook, so she misses out on most of it.
Her memoir has chapters on Andy Warhol, whom she was close to at the end of his life, and Lou Reed and Studio 54. I ask her if she gets tired of talking about that era. "I don't mind talking about it. I just can't even remember anything — I keep finding pictures of me with Madonna and we're sitting next to each other in some booth in some club or something, but I don't really remember," she says. The book is oddly without many details of past decades even if she seems to have had a Zelig-like ability to be everywhere and to have met everyone. The Sex Pistols and Keith Haring, Joan Rivers and Nancy Reagan, the Mudd Club and Max's Kansas City all get the briefest of cameos but her general depiction of 1970s and '80s New York is hazy.
The so-called Literary Brat Pack of her and Bret Easton Ellis and Jay McInerney gets two paragraphs in her book. "I knew each of my two packmates a bit" is as personal as it gets. "It was just a made-up thing," she says to me of their cohort. "It just meant that every time one of them was mentioned I was mentioned and vice versa. It just happened that here were three books in approximately the same time frame published that young people were running out to buy, not because they were assigned to it as a college class, and not because it was beach reading or Stephen King — it was because they actually wanted to actually read a book. That was pretty thrilling."
In her late-'80s heyday Janowitz appeared on David Letterman and posed for ads for Amaretto liqueur and Rose's Lime Juice, citing George Plimpton as a precedent. "I needed the money and besides, I was not gonna sit in my apartment 24 hours a day trying to write. Jay called me a whore for doing ads." (In 1998, McInerney told Publishers Weekly, "I still think the idea of a writer doing an ad is appalling. I was offered a Dewars profile and a Gap ad, and I didn't do things like that because the day you take money to be an actor, then you're a whore. Tama was embracing this celebrity culture in ways that pointed at the dangers of it all.") She made the most of her moment, doing everything one should when they're experiencing New York literary notoriety: parties at the Dakota, cushy magazine assignments to write about reindeer or mushroom foraging. "I looked upon any invitation to do anything as an opportunity to do something I would never have known about otherwise," she writes in Scream.
She would be the first to tell you it doesn't last forever. "I wish the books had been more popular," she says. Her follow-up to Slaves, 1988's A Cannibal in Manhattan, wasn't a hit, and she had trouble finding a publisher for her most recent book, 2010's They Is Us, a dystopian fable, which was ultimately just published in the U.K . She has a new agent and has already finished a draft of a new novel. "I'm waiting to hear back from my agent, whether he thinks it's salvageable," she says cheerfully. It's the first time she's written a fiction draft without her mother's input.
We drive to a farm that advertises you-pick raspberries and start filling up our cartons even though it's raining. "The thing is, if you're a writer, you have to keep the skin removed to be able to connect with words and feelings and thoughts and get them down on the page as honestly as possible, and then you have no skin left, and you're just one big open wound, so you take it much harder than if I was running around all day doing something else with a protective shell over myself," she says. "I don't have a shell."
She's ready to leave upstate New York for wider spaces. "I'm hoping to move to a ranch in the West, maybe somebody would have a little bungalow I could live in for a few months, see if I like the area," she says, inspecting a raspberry. "It's time for me to move on."