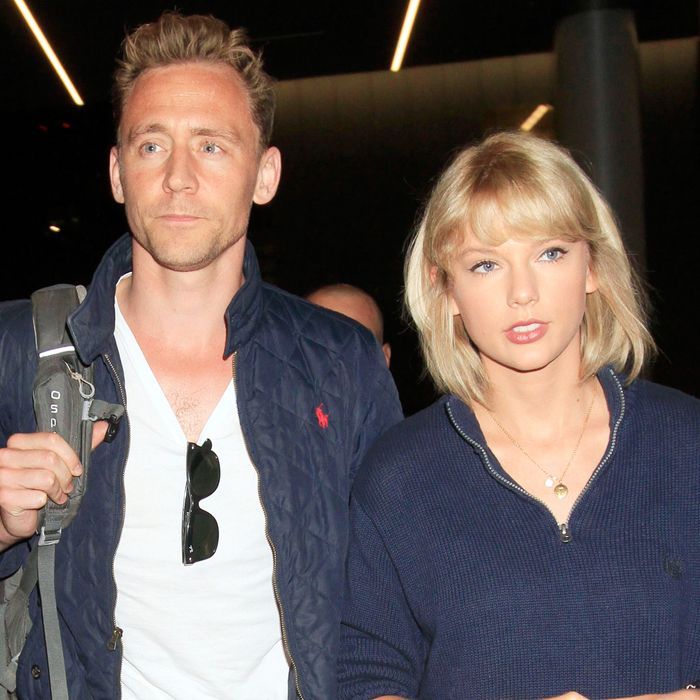 Taylor Swift and Tom Hiddleston.
Photo: Sharky/Polite Paparazzi/Splash
According to a new, exclusive report from the trusted newsroom of Us Weekly, Taylor Swift and Tom Hiddleston's long, public honeymoon is over. Because they got in a fight. A FIGHT! They had their first fiiiiiiiiggghhhhttttt aaahhhhhhhh.
They had their first fight.
A source "close" to Swift told the tabloid that the new couple had "a major argument" in the beginning of August, because "they weren't spending as much time together." In the beginning of their relationship, Swift and Hiddleston were photographed together every single day, which they seemed to enjoy. Now that Hiddleston is filming a Thor movie in Australia, they can't be photographed together as much, and that's upsetting to both of them.
The "close Swift insider" — perhaps close enough to inhabit Swift's own body — explained, "There was so much going on so it was hard making their schedules work, and they were upset they couldn't see each other … Tom is busier than her right now, so it's been hard. They've had some schedule issues, but things are otherwise fine. They are making it work."
The insider did not mention Swift's public feud with Kim Kardashian and Kanye West as a source of stress in the relationship. Things are otherwise fine.