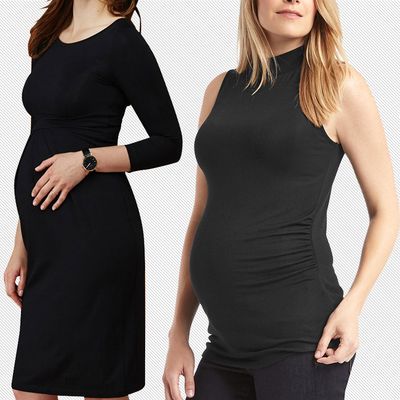 Photo: Courtesy Retailers
Figuring out what to wear when you're pregnant isn't easy — not everyone has a bomber jacket sans shirt coupled with a body harness handy. The reality is that the majority of maternity clothes tend to be sad, shapeless sacks that cost far too much considering how wildly unflattering they are. And since your body is changing so quickly, it's hard to justify splurging on something you'll probably want to burn after 40 weeks.
Before you give up and buy that muumuu, consider building a capsule maternity wardrobe full of inexpensive classics. The majority of these pieces are under $200 and can be mixed and matched for the next few months. Feel like yourself, even if you don't quite feel like yourself. Scroll ahead for our favorites.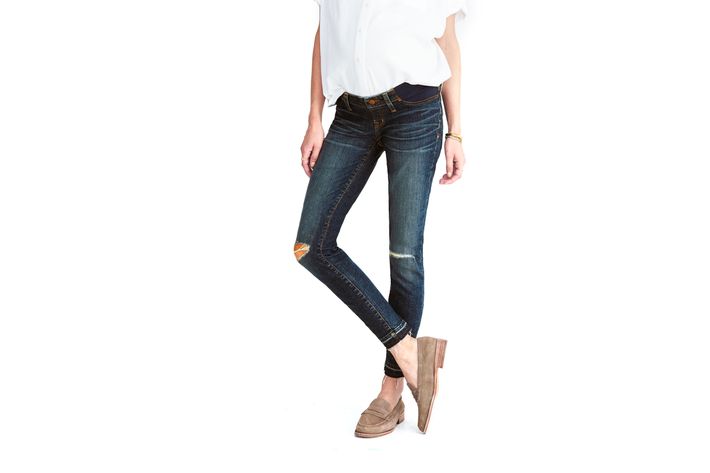 Madewell maternity skinny jeans, $138, Madewell

The first thing you'll need are new pants. You can get by with wearing your pre-pregnancy tops for quite some time. These Madewell jeans feature a stretchy waistband that goes under the belly like sweatpants but look exactly like the regular ones in your closet.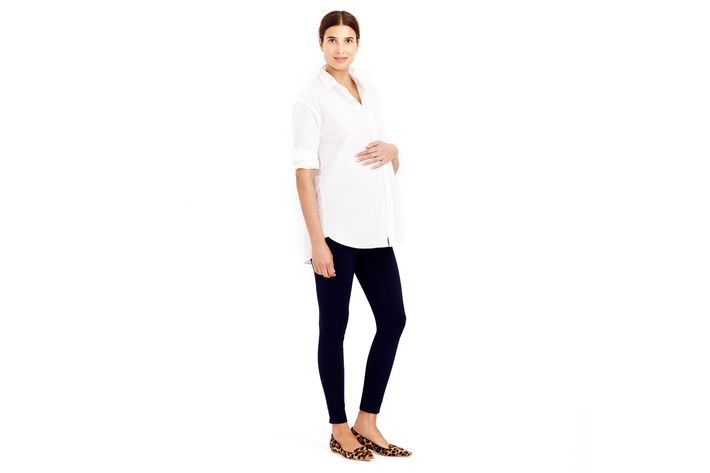 J.Crew maternity Martie pant, $79.99, J.Crew

Work pants are also key — you'll be wearing these the most during the weekdays. Size up on them for a better fit.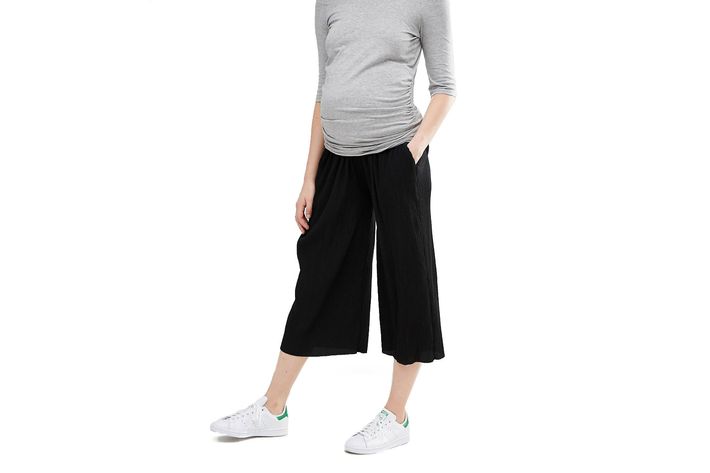 New Look maternity pleated culottes, $33, ASOS

Culottes could not be more perfect for maternitywear — they're incredibly comfy without being sloppy. Since they're so voluminous, wait till you're really showing and then go for a tighter-fitting top to balance it out.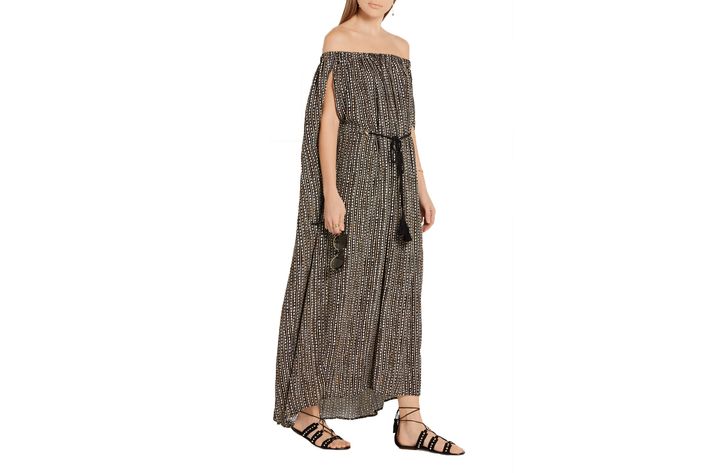 Hatch off-the-shoulder printed crepe maxi dress, $300, Net-a-Porter

This is by far the most expensive dress on the list, but Hatch makes it a point to design stylish clothes you can wear long after your pregnancy. This billowy caftan hits on the off-the-shoulder trend of the summer and can make flat sandals look dressed up.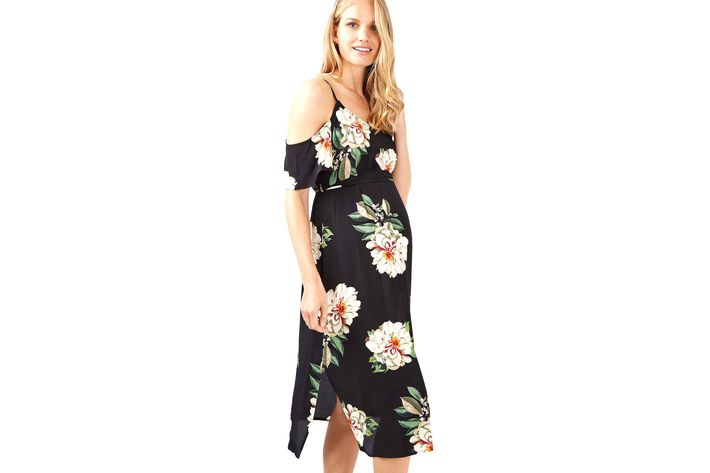 Topshop maternity cold shoulder dress, $80, Topshop

Buy at least one fun dress. Seriously. You'll be happier for it.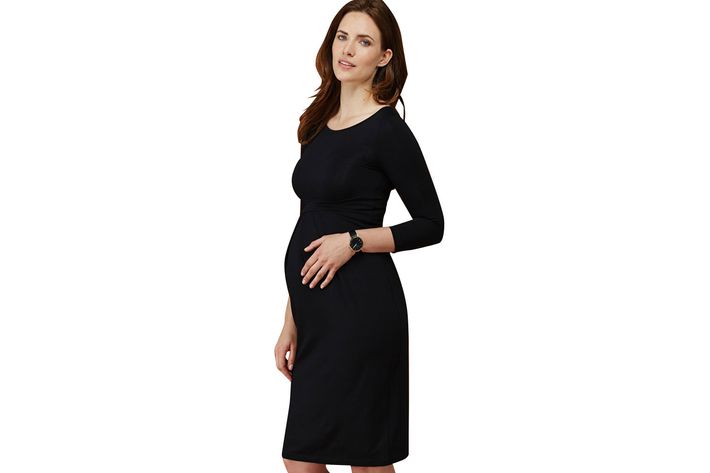 Isabella Oliver Ivybridge maternity dress, $145, Isabella Oliver

You can slip this stretchy jersey dress on with a blazer and be good to go. And because the style is so simple and uncontroversial, you'll be able to lend it to every pregnant friend for years to come.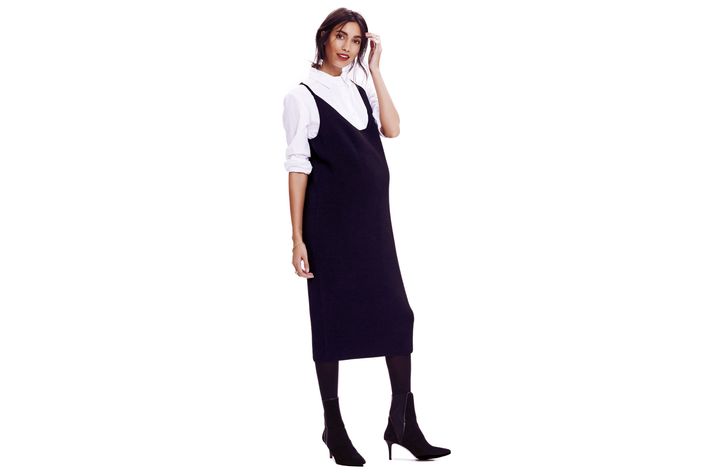 Hatch The Anouk dress, $228, Hatch


When the weather cools off, this is a great layering piece over a white shirt, slim turtleneck, or T-shirt.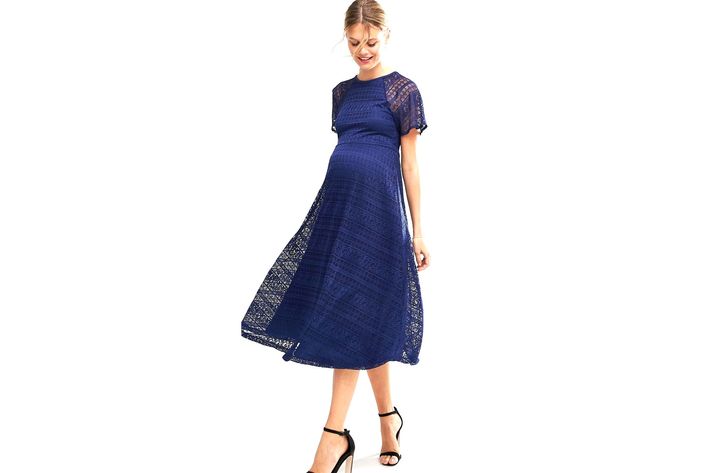 ASOS maternity midi lace dress, $51.59, ASOS

Chances are you'll have to go to a formal event of some sort and still want to look put together. This floaty dress feels appropriate and it's not very expensive.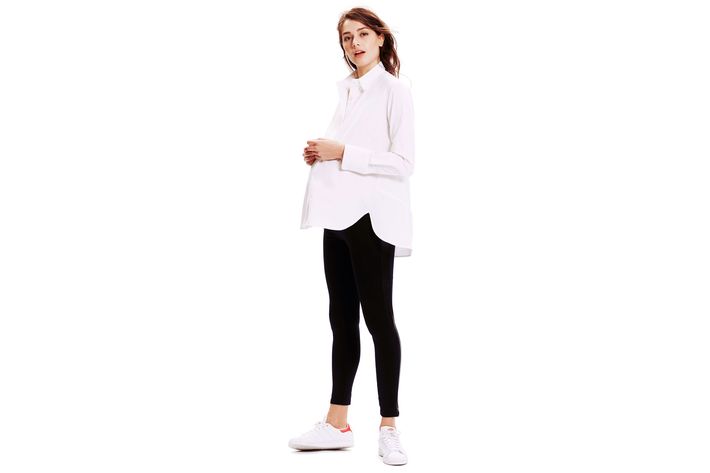 Hatch The Classic White shirt, $158, Hatch


Splurge on a white shirt. You'll wear it with literally everything from your work clothes to your weekend jeans.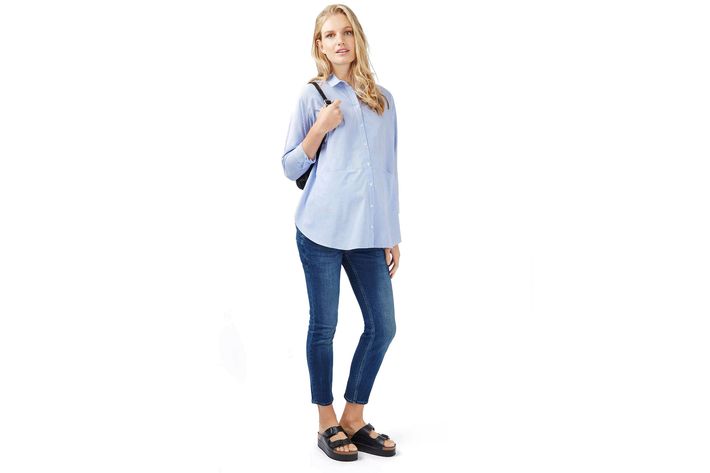 Topshop stripe jet shirt, $68, Topshop

But if you don't want to spend that much, Topshop has a nice blue one for half the price.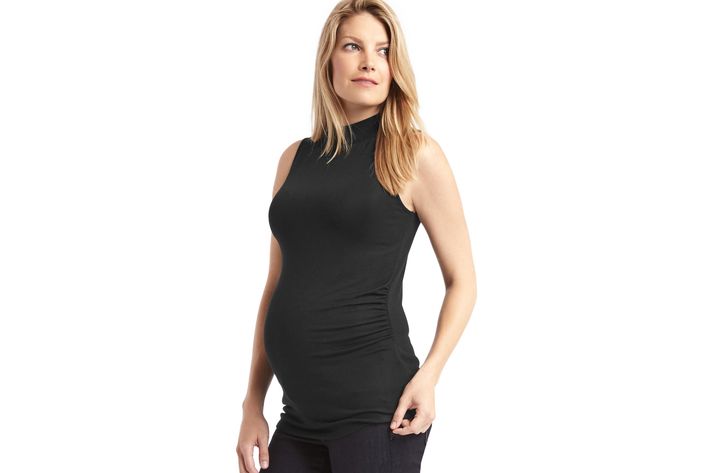 Gap ribbed mock neck tank, $34.95, Gap

You'd think that wearing loose tops the whole pregnancy would be the way to go, but sometimes a simple, fitted tank makes you feel loads better than yet another empire-waist chiffon blouse.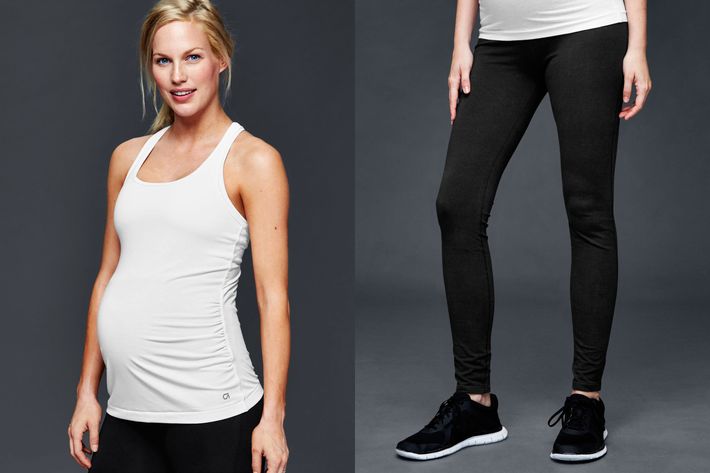 GapFit Breathe racerback tank, $29.95, Gap; GapFit gFast full panel leggings, $49.95, Gap

Get some gym clothes, even if the closest you'll get to working out is walking to brunch on a Sunday.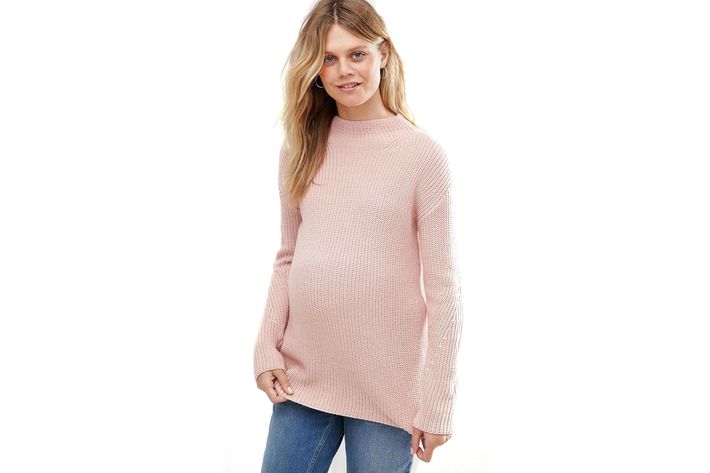 ASOS maternity chunky knit sweater, $45.14, ASOS


You're going to get bored of all these black basics. The rose-quartz color of this sweater is one way to spice things up without resorting to matronly prints.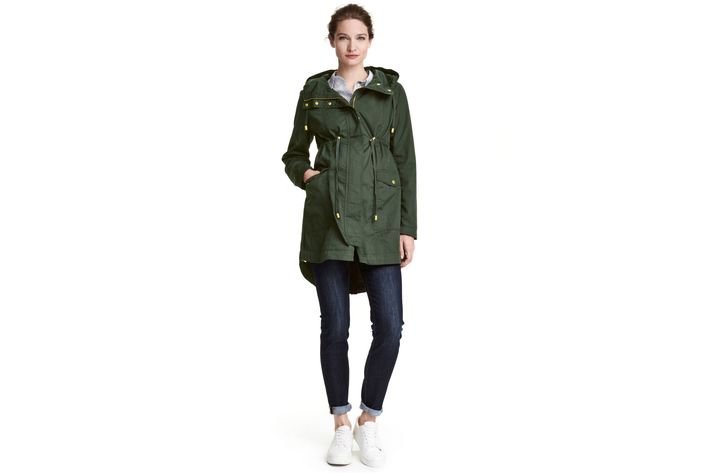 H&M Mama parka, $49.99, H&M

You could just wear your pre-pregnancy coat unbuttoned and count on all that extra baggage you're carrying to keep you warm, but why compromise? You've already given up alcohol, Brie, and sleeping on your back — do yourself a favor and don't give up on having a jacket that closes properly.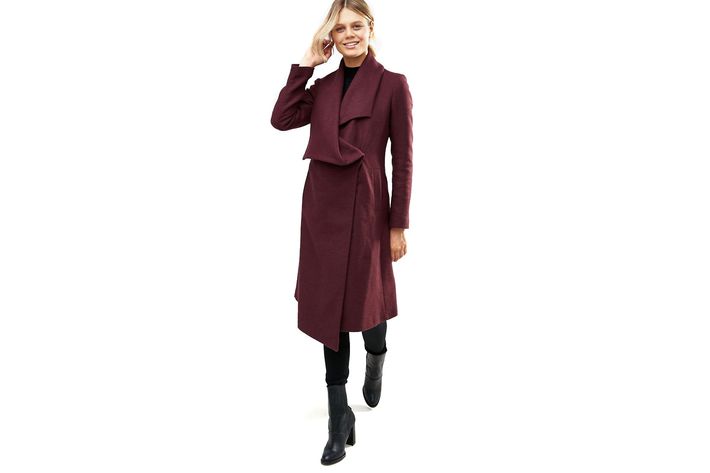 ASOS maternity trapeze coat, $145.11, ASOS

Because sometimes you need to look office-appropriate outside of an actual office. Show up to a work lunch in this and you'll feel like you really have it together.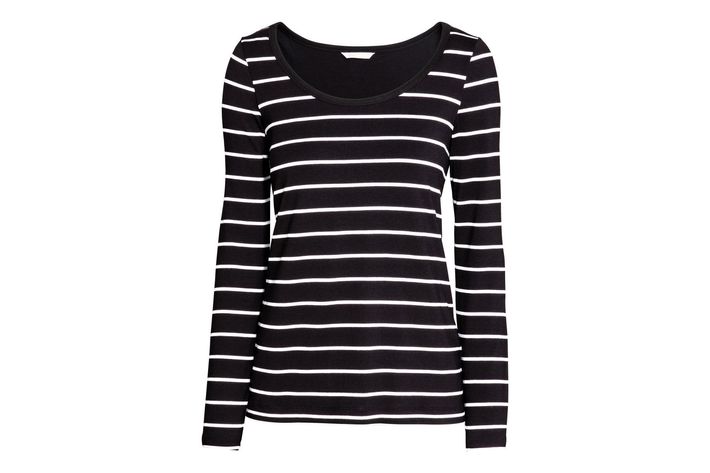 H&M striped nursing top, $24.99, H&M

One cruel surprise of motherhood, at least if you plan to breast-feed: After you have the baby, you still can't wear half your clothing. Guarantee yourself an easy basic now and easy boob access later with this cleverly layered striped top.