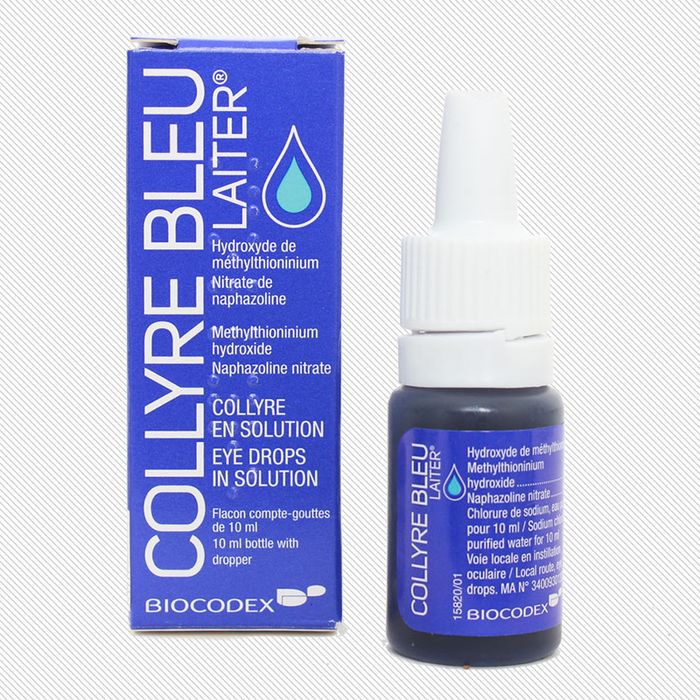 I've never understood the concept of "regular-strength" products. Why buy "regular-strength" Tylenol or mouthwash when "extra-strength" options of each are available? Is "regular strength" just another way of saying "weak"? When it comes to headaches and morning breath (etc.), don't you want the maximum dose of the most extreme solution available, every time?
I do.
Until recently, I was not aware that "extra-strength" eye drops existed. Like anyone whose job involves eight hours in front of a computer, I keep a bottle of eye drops in my desk and moisten my eyes once or twice a day. But by 6 p.m. my eyes still look like a cheese pizza.
Enter Original Laiter Collyre Bleu Eye Drops. These eye drops come in an intriguingly scientific-looking bottle and are exactly what the name vaguely hints at: eye drops tinted a rich Yves Klein hue and designed to tint your whole eyeball a pale whitish-blue. Not enough to be distracting, but enough to instantly counteract redness and yellowness. You apply like normal eye drops — one gentle squeeze per eye — and two minutes later, a full day of work has been erased from your optic zone. The effect lasts hours.
The origin of these eye drops is mysterious. The producer is Laboratoires Leurquin, a French company founded in 1932 and taken over in the early '90s by a Milanese pharmaceutical conglomerate. It is unclear when the drops were introduced to market or how they began to pop up on recommendation lists from celebrity makeup artists. But as all of this — foreign packaging, foggy origins, cult following — suggests, the drops are powerful stuff. You must be careful when applying; if you squeeze the container too hard, the blue drops will run down your cheeks in pigmented streaks. I see this as an asset, not a liability — if a beauty product must be handled with the delicacy of a weapon, it must be good. There's no reward without risk!
Buy It: $21 at Amazon
The Strategist is a series of smart, obsessive shopping guides from the New York Magazine section of the same name. We've scoured the web to bring you the best of the best. Some of our latest conquests include rolling luggage, water bottles, umbrellas, beach tents, iced coffee, nail clippers, and yoga mats. If you buy something through our links, we may earn an affiliate commission. Please note that all prices are subject to change.