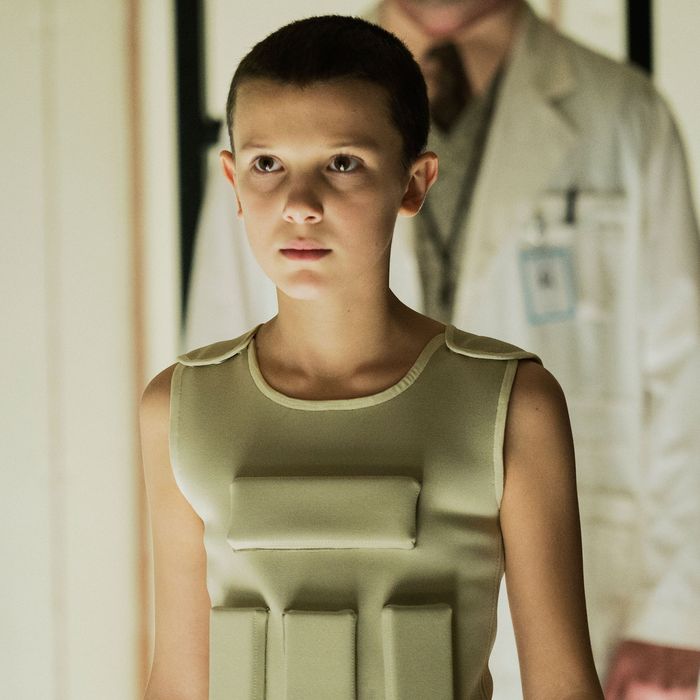 Eleven is the hero we need.
Photo: Curtis Baker/Netflix
Disclaimer: Spoilers ahead for season one of Stranger Things.
When Stranger Things came out on Netflix, a close friend of mine demanded I watch it. Not because it got overwhelmingly positive reviews — although, yes, that was a factor — but because, as she put it, "The main character has a buzz cut, and she's totally awesome." By coincidence, I also have a buzz cut. I like to think of other women who've chosen the style as my sisters in arms; a sort of energy current — a subtle acknowledgment and approval — passes between us when we spot each other, say, on the subway platform. Sometimes it's more overt: Once I was walking down the street in Manhattan, and a woman with a bleached-blonde buzz stopped me and said, with a wink, "I like your hair." And although she was a fictional character, it was no different with Eleven. I watched the first episode and became an instant fan.

I buzzed my hair back in June because I wanted to: I made an appointment at a nearby barbershop, watched my hair fall off in tufts, paid the man $35, and left. Then, in July, I went to my best friend's wedding in California. I was nervous about showing off my hair (or lack thereof) in front of her relatively conservative Texan family and her acquaintances from a small private school in Virginia. But on the day of the wedding, I was standing next to her 10-year-old cousin while we both waited to get our photos taken. And she turned to me, the curls in her brown ponytail quivering, and said, "Maybe it's weird to say, but love your hair. I want to do that."

Eleven, who has telekinetic powers, is hardly the first example of a quote-unquote strong female character sporting a buzz cut; there was Demi Moore in G.I. Jane back in 1997, and, a decade later, Natalie Portman in 2006's V for Vendetta. Charlize Theron's buzz in last year's Mad Max: Fury Road was straight-up practical. But in all three cases, the cuts served the dual purpose of broadcasting the characters' toughness while highlighting the high-drama beauty of the actresses who played them. The message wasn't so much "This is a character who happens to have a buzz cut," as "These woman manage to look beautiful, despite the fact that they have no hair."
They also served primarily as plot devices, and all three carried with them a suggestion of trauma. Eleven's buzz, too, is tinged with dark significance: She was raised in a psychological facility by a psychotic doctor who likely found it easier to keep her hair short than to worry about pigtails while he submerged her in a sensory-deprivation tank. But even though the cut is a product of her environment as much as Furiosa's or Evey Hammond's, it doesn't convey fierceness until Eleven is fierce. It doesn't mold her as much as she molds it.
In the first episode, Eleven escapes from the psych ward and runs into three well-meaning boys, who hide her in a basement fort and cover her buzz with a blonde cheerleader wig. In it, she looks normal enough to blend in with their middle-school class — in other words, she looks nothing like her powerful, otherworldly self. She eventually fights with the boys and ditches the wig in the process, chucking it away in a fit of rage after seeing her reflection in a forest pool. After the fight she stays in hiding until one of the boys (Mike, the one she like likes) jumps over a cliff and she has to save him by stopping his fall midair and telekinetically bringing him back to level ground. It's a turning point for her, and although she retrieves the wig afterward and tries to fit it back into place, she eventually gives up and sticks with the buzz. "Still pretty?" she asks Mike, referring to her hair. And of course, he answers, "Yes."
He'd have been an idiot to say anything otherwise — the girl he's talking to just saved his sorry ass — but Eleven wasn't about to go back to the wig, no matter what Mike answered. At that point she'd grown into her hair, wearing it as easily as she wielded her superpowers, which seem to become more potent with every episode. In the end, in the ultimate self-sacrifice, she saves not only Mike but every character in the show.
The minute I saw her onscreen, I loved Eleven for her haircut. But by the end of the season I loved her because she gave me — and all the other women out there with buzz cuts, and all the other little girls who aspire to shave their heads one day — a good name. And as Millie Bobby Brown, the 12-year-old actress who plays Eleven, told Vulture, "Dude, it grows back. It's fine."