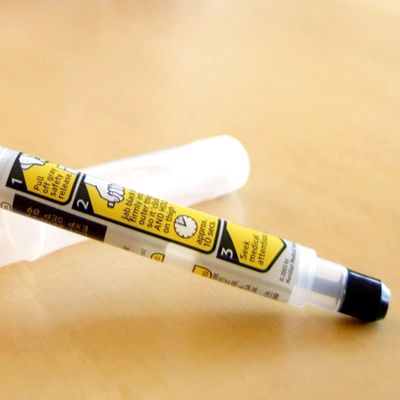 Photo: Anda Chu/Bay Area News Group/TNS via Getty Images)
People with severe food and environmental allergies are often prescribed EpiPens, spring-loaded tubes of epinephrine they can easily jab into their thigh if they experience life-threatening anaphylaxis. You're supposed to carry one with you everywhere you go. But in recent years, EpiPens have gotten so expensive that some struggle to afford them.
CBS News reports that the price of EpiPens has increased by more than 480 percent since 2009, two years after Mylan purchased the device from Merck. A two-pack used to cost pharmacies about $100. It's now $600, and they have a stated expiration of one year. But health insurance covers that, right? It depends on your plan. If you're one of the many people with a high-deductible plan, you could be stuck with the bill. Parents of children with severe allergies are told to have devices at home and school, too, which can add up fast. Two packs can set some people back $1,200.
Mylan does offer a patient-assistance program and coupon cards, which allow some people to pay nothing out-of-pocket, but for some families, the coupon saves them $100 per pack — they still owe $500. Emergency medical technicians also use EpiPens and some have resorted to syringesfilled with epinephrine to save money.
Epinephrine itself is very cheap; Mylan is essentially charging for the patented auto-injector, and they have a virtual monopoly on the market. There is a generic version, but the injector is different (another generic isin development) and a rival device was recalled in October. Marketwatchcompared the steep increase to the shady practices of ValeantPharmaceuticals and anti-hero Martin Shkreli's Turing Pharmaceuticals, which raised the price of a generic cancer and AIDS drug from $13.50 a pill to $750.
Mylan told CBS in a statement that EpiPen's price "has changed over time to better reflect important product features and the value the product provides," adding, "we've made a significant investment to support the device over the past years." That investment might be little more thanmarketing. Nielsen figures show that Mylan spent $35.2 million on EpiPencommercials in 2014, up from $4.8 million in 2011.
Bloomberg senior medical reporter Robert Langreth told CBS: "This brand name, EpiPen, it's like Kleenex to allergists. You know, it's a name they know and trust. It's what they prescribe." For better or for worse.