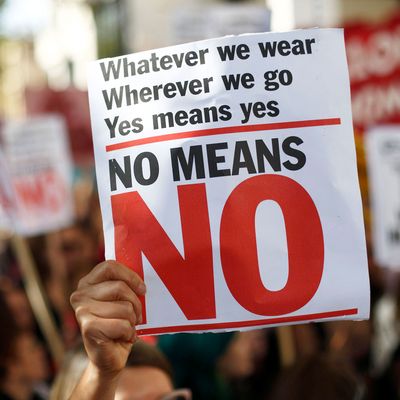 Photo: Justin Tallis/AFP/Getty Images
By now, you may have heard that one in five college women in the U.S. will be sexually assaulted sometime over the course of her education. It's a statistic that comes up frequently in discussions about sexual violence — but much less discussed is the fact that this number may well be inaccurate. Another survey puts it closer to one in four; some have argued that both are based on limited data and can't be broadly applied to all college campuses.
The bottom line: We don't know definitively just how common sexual assault really is. And perhaps even more pressingly, there's still a lot we don't know about why it happens — there's a desperate unmet need for an accurate, scientific understanding of how sexually coercive behavior develops.
Which is why a recent study on sexuality and aggression, published in the Archives of Sexual Behavior, is so worthy of our attention. Researchers at Abo Akademi University, in Finland, surveyed nearly 6,000 people, of both genders, about their history of paraphilic interests (atypical sexual habits) — including exhibitionism, masochism, sadism, voyeurism, cross-dressing, and pedophilia — and if they had ever used tactics like verbal demands or physical force to pressure someone into sexual activity against their will. Importantly, all the survey respondents were also twins, allowing the study authors to better understand just how much could be attributed to genetics.
Before we go any further, it's important to make one thing very clear: Having a paraphilic interest does not mean that someone will behave nonconsensually. In fact, the kink community heavily emphasizes the importance of setting and respecting boundaries. The world is full of people with paraphilias who would never be coercive toward their partner, and who parlay their interests into mutual pleasure; BDSM role-playing, for example, allows a person to indulge sadistic and masochistic sexual fantasies while communicating with a partner about what feels good and when to stop.
But this study may help us get a better sense of that small segment for whom coercive behavior and kink overlap. The study results: Paraphilic behaviors were roughly four times as common in men than in women; across the whole sample, 18 percent of people reported at least one. Approximately 19 percent of men and 4 percent of women admitted to sexually coercive behaviors; among those who reported any paraphilic behavior, 21 percent had a history of coercion, compared to 6 percent of those who reported none.
Among all the paraphilic behaviors surveyed, the ones most commonly associated with sexual coercion were voyeurism, exhibitionism, masochism, and sadism. The study authors hypothesized that because voyeurism and exhibitionism are "hands-off" offenses (that is, they don't involve actually touching a victim), they might be developmental steps along the way to more aggressive, contact-based offenses, like rape. The twin component, as it turned out, was largely irrelevant — by examining twin pairs where one sibling had a paraphilic history and the other did not, the researchers concluded that the relationship between paraphilic and coercive behaviors is unrelated to genetics or family environment.
So, what leads some people with paraphilic interests to act coercively, when most happily engage in consensual sex? It's possible that unique environmental factors, or experiences that one twin had and another didn't, are responsible for shaping this behavior. As someone who has worked clinically with convicted sex offenders, I would also expect that antisociality, or an indifference to the well-being of others, plays a huge role — someone who is antisocial will seek sexual gratification even if it comes at the expense of their partner's well-being.
Both of these, though, are just possibilities that need further study. The authors emphasize that we need more research to fully understand the origin of sexual coercion and how it relates to paraphilic behavior. Down the road, that understanding may help us develop better risk-prediction tools and rehabilitation programs — meaning that we might one day be able to offer early screening and treatment to those at risk of committing sexual assault, and with any luck, do a better job of preventing it than we do now.