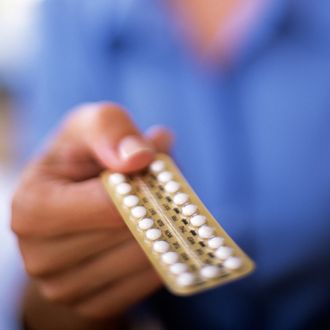 It's magic!
Photo: Getty Images
Since 2007, the national birthrate for all teens has dropped 42 percent, while the birthrate among teens 15 to 17 has dropped 50 percent. According to an article published in the Journal of Adolescent Health, that decline is evident across all 50 states and across racial and ethnic groups. It's a pretty remarkable downturn, and although some researchers are puzzled at the sudden change, it has a pretty simple explanation: Teenagers are getting better at using birth control.
Researchers Laura Lindberg, John Santelli, and Sheila Desai found that teenage girls were just as likely to be sexually active in 2012 as they were in 2007. But the percentage of sexually active teenagers who used at least one type of birth control reportedly rose from 78 percent in 2007 to 86 percent in 2012.
What's more, the use of "highly effective" methods of birth control such as IUDs, pills, patches, and rings increased from 38 percent in 2007 to 51 percent in 2009, and the number of teenage girls who reported using more than one method of birth control increased as well.
But despite the evident progress, researchers note that the United States still has one of the highest teen-pregnancy rates of any developed country — it's more than six times as high as Switzerland's and more than twice as high as France's. Improving access to birth control, they write, is crucial to preventing teenage pregnancies, especially because "most adolescent pregnancies in the United States are unintended, and the majority of sexually active adolescent women report that they would be upset if they became pregnant."
They also note that they conducted the study before new data became available showing an overall decline in sexual activity among high-school students from 2013 to 2015 — something that could have an even greater effect on the teen birthrate. Regardless, the takeaway here is pretty clear: Sexual education and birth control work. Good job, everyone.