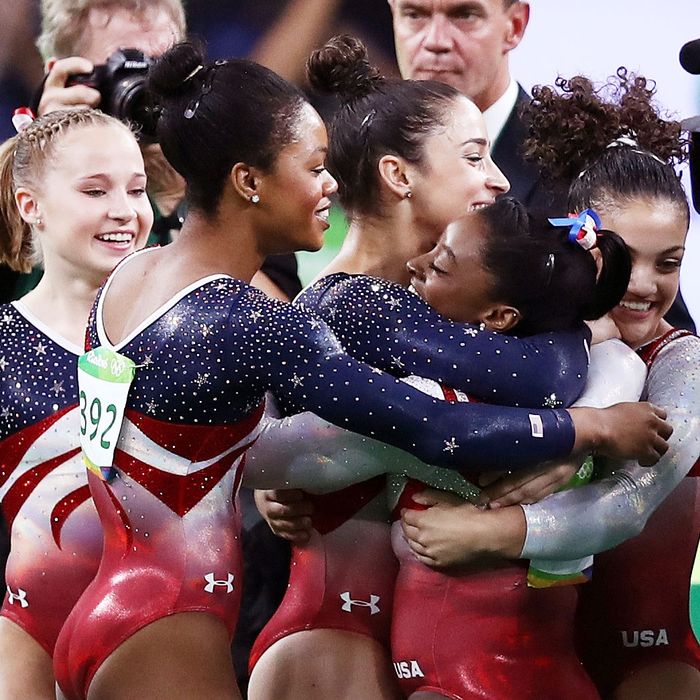 Photo: Lars Baron/Getty Images
Yesterday, the U.S. women's gymnastics team tumbled, vaulted, and handspringed into our hearts, and won five gold medals in the process. I cannot tell a lie: I cried. Yet, as ever when I become emotionally attached to a group of public figures, I can't escape being confronted by the same petty social anxieties that concerned me in high school: Do Simone, Gabby, Aly, Laurie, and Madison — whom I now consider to be close personal friends of mine — really like each other, and if not, where's the beef?
Let's investigate:
Suspicion: Aly is a little older than the others. Maybe she has no time for their shenanigans.
Debunked: Aly commands respect.
Aly may be approaching senior-citizen status at the haggard age of 22, but that doesn't stop her from having a little fun, embracing her moniker as "the grandma" of the team. "Simone [Biles] likes to call me grandma and Laurie calls me mama sometimes," Raisman has said, explaining that the nickname is partly because she naps a lot.
Plus, Aly seems to be a revered figure among her younger colleagues. When asked about her heroes, Simone told GymCastic that they're: "probably Shawn Johnson and Aly Raisman," while Madison, her Rio roomie, says Aly has always been one of her biggest idols. Aw!
Suspicion: Everyone is jealous of Simone.
Debunked: Simone seems pretty great.

Seemingly, it would be easy to dislike Simone, because she's better at gymnastics than everyone else. But it seems like her sunny demeanor wards off any possible resentment. Laurie, who roomed with her in Rio, has said that Simone is the joker of the group, and Aly seems to agree, telling the Gymternet: "We're always talking about really weird stuff, I don't know, we're always giggling and laughing. It's to the point that Mihai [Raisman's coach] and Aimee [Biles's coach] won't let us talk to each other because we can't stop laughing." Based on their social-media output, Aly and Simone seem particularly tight.
Then again, Madison made Simone a birthday Instagram, which teens tell me is a big deal.
Suspicion: Gabby must have beef with her teammates after not moving on to compete in the all-round.
Debunked: No apparent beef.
Gabby won gold in London, but won't compete in the individual all-round this year because Simone and Aly took the two spots each country is allotted. If there's any sign of beef, I figured this is where I was most likely to find it, and I did notice that Gabby was featured slightly less prominently on the other girls' Instagrams. But when she does appear, the camaraderie appears genuine. Look at this boomerang!
According to NBC Sports, Gabby and Simone became fast friends after rooming together at a training camp in 2014, where they "stayed up late and laughed so loudly over things like pizza that the other gymnasts banged on the walls." Simone, meanwhile, "likens Douglas to an older sister" and "asked Douglas for advice on choosing her college." Aw!
"We're friends, in and out of the gym. Everyone makes it [out] to be some big rivalry, but we're just friends!" Simone told Refinery29 recently.
As for Aly and Gabby, the sheer number of #TBTs between them suggests their long history of competing together is a source of nostalgia, not resentment.
In conclusion: While I don't think they necessarily all hang out together when they aren't training or competing (so, one day a week?), I believe Simone when she says that they're not just putting on a show.
"Most people are like 'oh, maybe they don't like each other,' but I think this generation has really seen how well we work together and actually knows we're friends," she told Hollywood Life. "And it's not just for the media. We really do care so much about each other, we're like a little family." Plus, one does not simply invoke #squadgoals if your #squad isn't actually #goals, right?