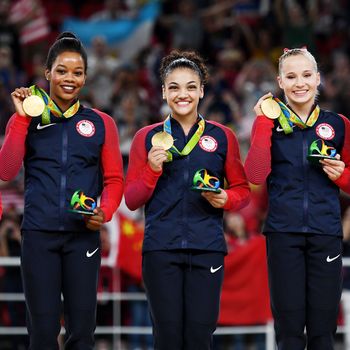 Photo: Laurence Griffiths/Getty Images
For those of us who have not been sated by the Rio Olympics Gymnastics events — so, the entire nation — the Final Five will be presenting at the MTV Video Music Awards on Sunday night. Along with Simone Biles, Gabby Douglas, Aly Raisman, Laurie Hernandez, and Madison Kocian, swimmer Michael Phelps will also be taking the stage (swimmer Ryan Lochte is still very much disgraced).

So far, we also know that Taylor Swift is skipping the awards and Kanye West will be given four minutes to do whatever he wants. It's still unclear if the Final Five will be presenting together or separately, but we can only hope they will at one point share the stage with Beyoncé.