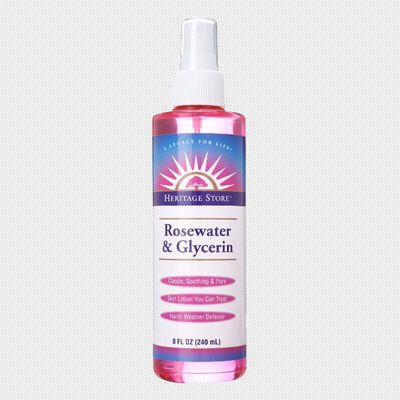 The story of me and my rosewater began when I received one by Aesop as a gift and was turned on to the refreshing potential of face mists. Wanting to save my Aesop spray for special occasions, I decided to buy a less expensive backup: Heritage Store's Rosewater and Glycerin mist. This was less because of any interest in the brand's whole mystical-wellness sell (Heritage creates all of its products according to the principles of 20th-century psychic Edward Cayce) and more because a friend said she happened to use this particular rosewater to set her makeup.
Holistic powers aside, the scientific breakdown is that rose is anti-inflammatory (which means it soothes all of your heat-induced irritation) and antibacterial (which means it fights acne and clogged pores). The water also has glycerin, which locks in moisture, so you don't sweat as much.
I've actually come to like my backup better than the Aesop. Maybe because after a recent sweltering day of running errands, I was headed uptown to meet a friend at the Met Breuer, and the idea of looking at art seemed impossible. I thought some mist might help, so I gave myself a spritz before entering the cool building. I had never experienced such a swift recovery from a day spent trekking across steaming sidewalks as I did in that moment.
Beyond using the rosewater when I'm on the verge of heatstroke, I've also started to use it nightly before bed. I always wake up with dewy skin, and I even discovered that it helps relieve eczema (it cleared up a very itchy bout on my cheeks). And when summer ends, I plan to test its soothing powers on my chapped, winter skin.
Buy it: From $7 at Amazon
The Strategist is a series of smart, obsessive shopping guides from the New York Magazine section of the same name. We've scoured the web to bring you the best of the best. Some of our latest conquests include French pharmacy products, Korean beauty products, umbrellas, beach tents, white T-shirts, nail clippers, and yoga mats. If you buy something through our links, we may earn an affiliate commission. Please note that all prices are subject to change.