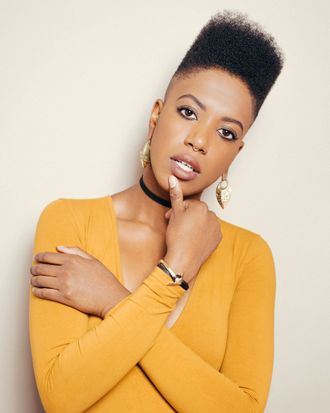 Simone Thompson.
Photo: Mindy Byrd
Picture this: You've just gotten a terrible, no-good, very bad haircut. What do you do? For Simone Thompson, a 24-year-old maître d', your only option is to go up. Her retro flattop was born from the ashes of a near-balding experience. Here she explains why her hair is a feminist statement and why patience is key when you're growing out tight curls.
How I describe my hairstyle: It's a feminine spin on a flattop. It's easy and doesn't take much effort. I've had it for two years, on and off.
If I could name my hair, I'd call it: Baby Grace.
In my shower you'll find: Aussie conditioner. I originally didn't know if it would work for my hair type, but it's the best conditioner I've found. Also Shea Moisture shampoo. As far as leave-in products, I use a combination of castor oil, jojoba oil, and shea butter.
I wash my hair: once a week. Honestly, I probably wash it too much.
A rundown of my hair regimen looks like: I use the leave-in products daily. At night I wrap my head in a silk wrap to keep all of that moisture in. I use the Olive Oil masks sometimes.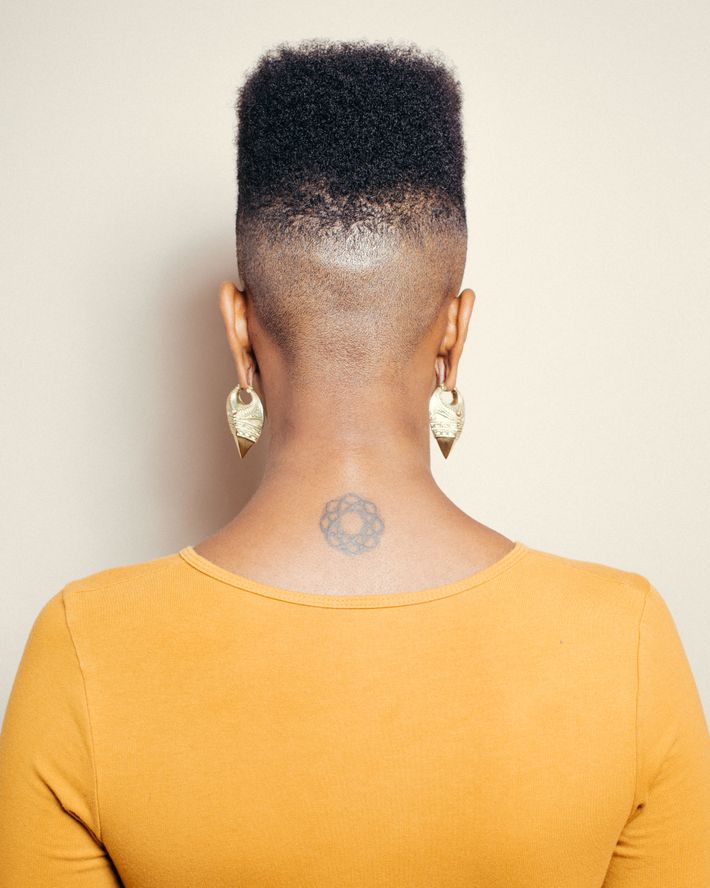 The worst thing I ever did to my hair was: I used to have locs and when I made the decision to do the big chop, I went to Supercuts to cut my hair. The girl who did it didn't know what she was doing. Instead of leaving what length was there, which she could have salvaged, she shaved it all and it was super-patchy. I looked terrible for six months. I have kind of a big head, so I'm not sure if being bald suits me. That happened five years ago. After that I was cutting my hair on my own and doing it really badly. It looked terrible and uneven.
The best thing I ever did to my hair was: let it be natural. I never put any chemicals in my hair.
I trim my hair every: ten days.
My hairstylist is: at De Lux Gallery. I found it on Yelp when I was searching natural black hair salons.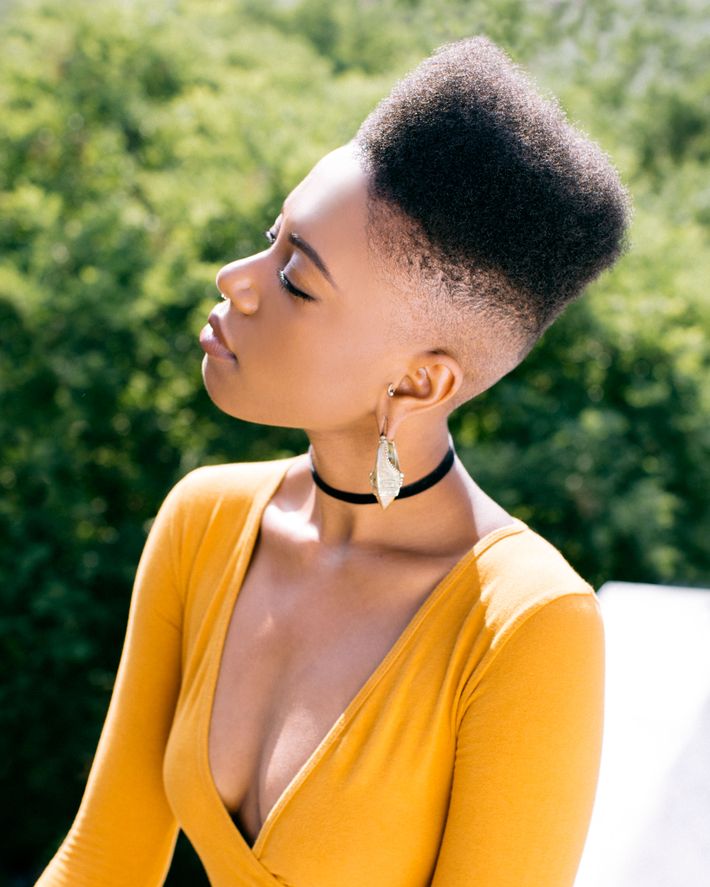 The most important thing people with hair like me should know: be patient. Especially if you have a really tight curl pattern and it seems like it never grows. It can be frustrating going through that process; it's like watching paint dry.
Check all that apply — my hair is dyed, is chemically straightened, is permed, has extensions, is braided/in locs: none of the above.
What I love most about my hair is: that it defies stereotypes as far as what haircut a woman should have. I see a lot of men with this haircut and people always say: "Your hair is so different!" It really isn't that different, there are a million guys who have hair like this. Breaking those gendered hair boundaries is important.
Top by American Apparel; bracelet by Miansai; makeup by Samantha Lau; hair by Cynthia Alvarez; beauty editor: Ashley Weatherford; photo editor: Raydene Salinas.
This interview has been edited and condensed.