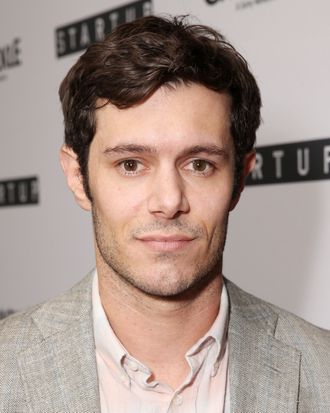 Adam Brody.
Photo: Todd Williamson/Getty Images
Two years ago, Seth Cohen (Adam Brody) and Blair Waldorf (Leighton Meester) got married. For real! And then last year, they had a baby girl. Are you picturing Seth Cohen as the dad of a baby girl? Extremely good, right? Haha, wait until you read this true story about it, which is better than anything any of us could have imagined with our dumb brains.
At the premiere of his new "Crackle series" StartUp this week (guess I'm watching that), People asked Brody about his daughter, who is named Arlo. Please read what he said below!
"I do a nice morning hike with my daughter, that's always a treat. It's something to do in the wee hours of the morning when she's up. It's a good activity for both of us. We hike around our house … watching the sunrise with a kid is pretty fun. I have her in the [Baby] Björn."
I have her in the [Baby] Björn.
That's so good I feel like I'm gonna throw up. Eeeeaahhhh. A baby hike! Day's over.