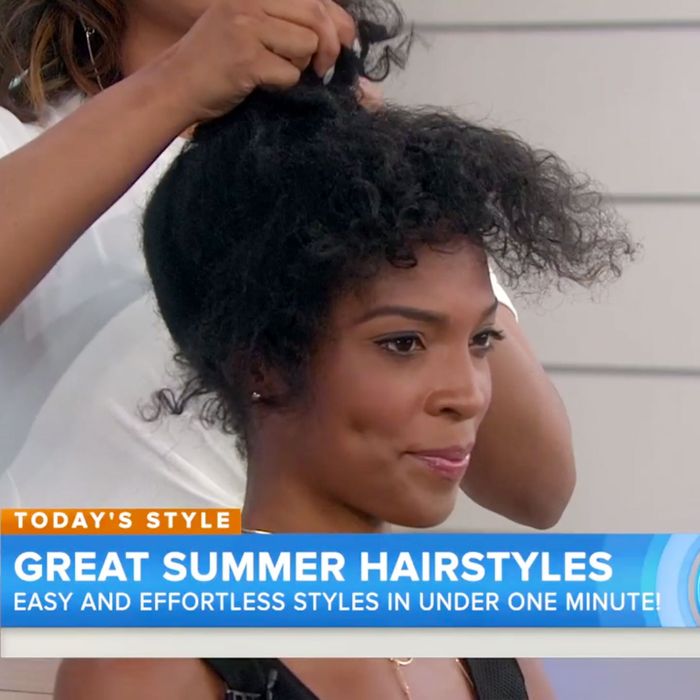 Malyia on the Today Show.
Photo: Courtesy of Today/NBC
On Wednesday morning, model Malyia McNaughton met with Deepica Mutyala to prepare for their Today show segment that was airing that day. Mutyala, who rose to YouTube celebrity last year when she nominated red lipstick as the perfect dark circle cover-up, was the beauty expert on hand for the day and she wanted to highlight summer hairstyles that could be mastered in 60 seconds. In the segment that aired later on, Mutyala gathered McNaughton's hair in a side ponytail, finger-combed her bangs, and then triumphantly walked to the next model on set. 
Was this your first time working with Deepica?
Yeah, this was my first time working with her. I was invited by the producers of the Today show and I'm very grateful they had me. They had already done a dry run that night, but I wasn't included because they were still trying to find someone that fit what they were trying to do. So they reached out the night before, and I was really excited for the opportunity to go. We [Deepica and I] met backstage and she was super-sweet. We practiced the style that we intended to perform live on air and I actually liked it. I even told her that I looked forward to trying it when I got home.
When you practiced it backstage, did your hair look completely different?
It was essentially supposed to be a curly ponytail that kind of goes high on the head and kind of combines with the bangs. I had never tried the style before, but once she showed me the inspiration photo, I knew my hair could do it.
Was the model black in the inspiration photo?
She was black and she had a similar hair texture to mine.
As the segment was airing live, did you get a sense that your hair wasn't panning out to what you and Deepica had planned?
Unfortunately once the cameras rolled live, the pressure just kind of hit. I kind of knew halfway through that it wasn't coming together the way that we initially intended, but I knew that we just had to keep going because at the end of the day it's live TV.
Did Deepica say anything to you on set right after the segment aired?
Right after our segment she had to do a Facebook Live segment. After that she came up to me; she hugged me and said, "Thank you so much for jumping in last minute. I really look forward to working with you again." We talked about possibilities for the future, so it was definitely a bonding moment and I was, again, grateful to her for including a woman of color, a black woman, on the segment.
Are you surprised by the widespread reaction to the segment?
It was definitely all good up until, I guess, people kind of ran with it. I'm surprised by the reaction a little bit.
Has Deepica reached out to you since the clip went viral? 
Yeah, absolutely. She reached out the same day because she started getting mean-spirited comments. I felt for her because I knew her intentions were pure and I'm an advocate for everything that has to do with natural hair, black-related inclusion, and so I felt her sentiment and didn't want it to turn that way. I offered a comment on one of the Today show Facebook posts and people backed down after that. It's just an unfortunate situation.
What did she say, specifically?
She keeps apologizing, but I totally understand the pressure that she was under, and I'm grateful for the fact that she wanted to be inclusive, and because the natural-hair movement is such a large segment. She is also a woman of color. I think that in the beauty industry we're both people who are trying to break boundaries, and I thought that it was great that she wanted to show diversity. I commend her and applaud her for that, and that's why I think people need to look at that angle as opposed to completely bashing her, because I feel like that closes the door for future opportunities. She will probably never work with a natural-hair model again, in regards to hair, and I think that that's unfortunate, because that's what we're fighting against as both women of color.
She also wanted to know whether I was upset with her and I kept reassuring her that I'm not. We know what our intentions were. I would not have gone forward with it if I didn't feel like she would be able to execute them. I don't have any hard feelings toward her and I look forward to working with her again even if it's a makeup segment, maybe not hair [laughs]. So she had a little laugh about it and I told her don't beat yourself up too much, this is a learning lesson for the both of us.
What is your final thought about everything?
I think that Deepica is great at what she does and this is a conversation that we should all have because clearly it touches everyone so deeply.
This interview has been edited and condensed.