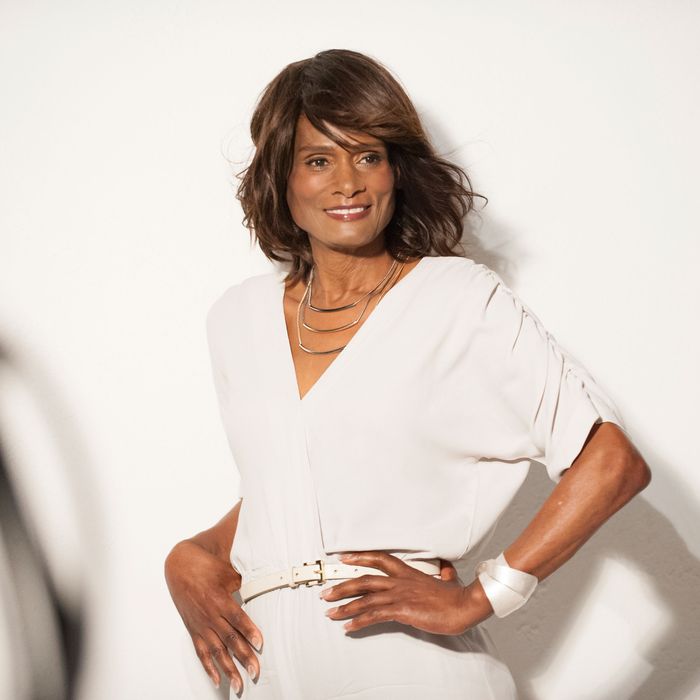 This December, when the Cut published a cover story about Tracey Africa Norman, the first black transgender woman to work, undetected, as a successful fashion and beauty model, we hoped her story would touch people and bring attention to her remarkable career. We could not have predicted that it would result in a phone call from Clairol, whose Born Beautiful hair-color boxes Tracey's face had graced in supermarkets nationwide 30 years ago, asking her to come back to work.
Today, the Cut is pleased to announce exclusively that, at age 63, Tracey Africa Norman is the new face of the Clairol Nice 'n Easy "Color As Real As You Are" campaign.
Working as a model who did not disclose her transgender identity in the late '70s and early '80s, Tracey was discovered by photographer Irving Penn, and featured on that Clairol box and the pages of Essence. But her outing in a less tolerant era ended her career. She was reluctant to tell her story, and only did so after convincing from friends. "I was reminded that I made history and I deserve to have it printed," she said. "And I'm still here."
Then, not long after the Cut article was published, she got a call from an ad agency asking her to meet for lunch in Manhattan with a mystery client. "They sprung it on me at the table, saying they were with Clairol and they wanted me to come back to work for them," says Tracey. "And I was just overwhelmed with emotions. I was excited, I was joyful, I was very humble at some point. I was just all over the place, and I really felt like this was going to be a great reunion."
The original Clairol job had been a big deal for Tracey, not to mention what kept her financially afloat for years; she's actually been a loyal Clairol customer ever since. "As a model, I was hiding my truth, and when I got the job it was very exciting for me," she says. "It was different because we were back in the late '70s and early '80s, so it was something that wasn't spoken of, and at that time it wasn't acceptable for me to be out." What overwhelmed her most was how much times had changed. "I was being accepted for who I am and they wanted me as the person that I am today to represent them. And I just thought that was fantastic."
Here's what we wrote about her big Clairol moment in the mid-'70s:
The company was looking for fresh faces to adorn the boxes of its new hair-dye line for women of color, Born Beautiful, and brought her in for a test. Under the bright lights, her hair had reddish undertones. They snapped photos and labeled her hue Dark Auburn, Box 512, and concocted a hair color to match. She had never dyed her hair, but she had done a home perm to relax her curls, and the interaction of the chemicals and the sun had naturally lightened it to a shade women would pay money to re-create. She signed a contract for two years' use, with the agreement that she'd get paid more if they renewed, which they did, twice. "So they used my box for six years, because they said it was the hottest-selling box," says Norman. "This is what I was told." Thousands of Clairol customers were emulating the look, and affirming the beauty, of a transgender woman.
Tracey didn't cry during that lunch meeting — "I was holding back. I didn't want to be in a public restaurant and all of a sudden having this ugly cry" — but she did break down talking about her mother in a promotional interview later. "I was able to speak about her unconditional love for me, and that was a little bit overwhelming because it was too soon that I hadn't really gotten over her passing, so I kind of had to excuse myself for a second, to pull myself together for that," says Tracey. "I believe she's looking down and extremely excited for me because she was there from the beginning and she was there to hold me during the time of my rejection."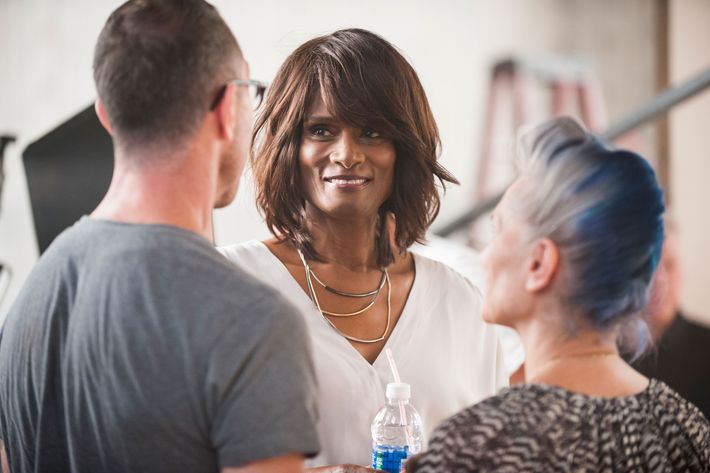 The shoot was important for Tracey because it represented "coming out of retirement, so to speak, and being in front of a camera, and I hadn't been in front of a camera in such a long time." (Except for her gorgeous photos in the Cut.) It also brought her to California for the first time, and on a plane for one of the few times since her modeling career abruptly ended. She learned that times have changed at airport security, too, and got to spend a few hours exploring Sunset Boulevard searching for a drugstore after all her toiletries were confiscated. "I thought they were the proper size because everything fit in a Ziplock bag, but I had six ounces instead of four ounces and I was trying to explain to them, 'Look, I'm going to be gone for days. I need this!'" says Tracey with a laugh. "They weren't hearing it."
The entire year has been a whirlwind for Tracey. "I've been thrust back into the limelight, thanks to you!" she says. "A lot of attention has come to me because of the article." She's since been profiled by the London Times and Marie Claire South Africa. This May, my co-writer Aaron Wong took her to the GLAAD awards, where our article was nominated, and she got to go backstage and meet Laverne Cox, who'd told me that she'd been fascinated and inspired by Tracey's story ever since stumbling upon it on Transgriot, a website devoted to celebrating the forgotten pioneers of the community. "I can't tell you how many hours I stared at that photo of her on that Clairol bottle and that caption, 'Born Beautiful,'" said Cox. "Yeah, we are born beautiful."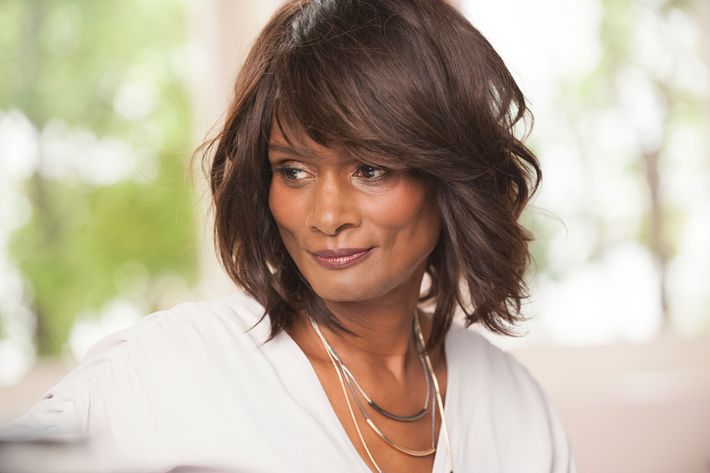 That night she also met trans model Andreja Pejic, who "congratulated me for opening that door," she says. "I had a big, giant Kool-Aid smile on my face that people in this younger generation know who I am and have appreciated my work and recognized me as the pioneer. I just wanted to say thank you. Thank you for the recognition." This month, she'll be getting an award from the drag ball community, and last month, she was honored at Newark Gay Pride. "And that was overwhelming for me because it feels like I had come full circle from living in a city that didn't accept me and I wasn't able to live my truth as far as being in public, where I could've been arrested, because it was on the books that we weren't allowed to be in public like that," says Tracey.
Walking on the street feels the same, "because I've been living my truth for a very long time," Tracey says. Though she has been recognized in Manhattan a few times. "Somebody across the street yelled, 'Tracey!' And they were putting their hands up and high-fiving me from across the street, 'Great article!'" she says. What's really taken adjustment is the idea of being back in the fashion industry that once spurned her. "I've lived my life privately and as a woman, and now I'm being labeled as transgender," says Tracey, "so it's something that I have to get used to mentally with the labeling part, but it's still exciting."
She's getting to do what she always loved to do, and at just a few months shy of turning 64 no less. "It's incredible!" she says. "At this age, that's overwhelming for me, too. But yeah, people are looking at me and not believing that I'm this age. It's great."
Now she's just eager for the ads to come out, "to let the public know about my truth and how I became a model and how accepting this company is," she says. "For this huge company to want me to come back and represent them in this way, it was overwhelming for me. It truly touched me."