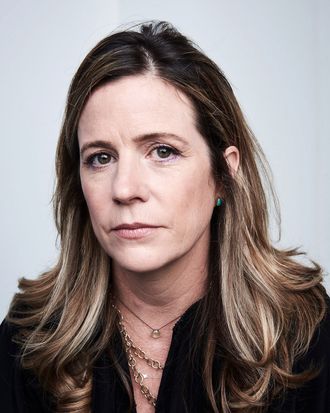 Tracy Droz Tragos.
Photo: Larry Busacca/Getty Images
The first scene of Abortion: Stories Women Tell, director Tracy Droz Tragos's new documentary about abortion rights, takes place at a meeting of pro-life activists in Missouri. Tim Jones, the speaker of the Missouri House of Representatives at the time*, takes the stage to thunderous applause and tells those assembled, "The Missouri general assembly is united with you in standing for life at all times. We are down to one abortion facility in this state … And that is because we have the ability to look into the womb."
Jones speaks for hundreds of pro-life lawmakers intent on legislating a woman's right to get an abortion — a right that's been under attack for almost as long as Roe v. Wade has been law — into extinction. Earlier this year Mike Pence, Donald Trump's vice-presidential pick, signed an Indiana bill into law that prevents women from getting abortions if their fetus has genetic abnormalities, and in dozens of other states, insurance restrictions, waiting periods, and mounting clinic regulations are making it increasingly difficult for women to access health care, let alone to seek abortions.
Droz Tragos filmed the entirety of Abortion: Stories Women Tell, which hit theaters Friday and will air on HBO, focuses on her home state of Missouri, one of the worst states for women's reproductive rights. She began filming just as the state enacted a 72-hour waiting period for women seeking abortions. The movie is centered around Hope Clinic in Granite City, Illinois — one of the few places women in Missouri can still go (assuming they have the means to get there and the luxury of taking off school or work) to get abortions. It follows dozens of women on both sides of the abortion debate as they interact with the clinic, either by protesting in the parking lot or walking through the front door. Droz Tragos sat down with the Cut to talk about the film, the women in it, and how certain lawmakers  — namely those on the Republican ticket — could impact a woman's right to choose.
On why women wanted to speak out about their abortions:
They appeared in the film for different reasons. For example, Amie was angry — really angry. So she wanted to have a voice and to say, "I'm not a bad person. I'm a mother. I have two jobs. I'm doing the best I can to make ends meet and to make responsible choices for my life."
But there's also a bigger reason that I felt again and again, and it's that women wanted to share their stories with other women who they'd never meet. They felt if they showed their face and said, "You're okay. I'm okay," that there would be some solace there.
On what she hopes to accomplish with the film:
I hope that overall it can contribute compassion to the debate — that it can help both sides listen to each other. I think that's the only way progress can be made. That's the hard part about asking people to share their stories: It's something that has to happen until we get to a point where we don't need to talk about it so much.
On what she remembers most from filming:
We did a screening at Netroots Nation, and Dr. Erin [the doctor at Hope Clinic] was on the panel with me. During the panel, she had to step out to take a call from an 11-year-old patient who'd gotten pregnant. For her this was one patient of many, but I have an 11-year-old daughter. It's just unthinkable for me.
On what would change Trump's mind on abortion:
He may not be aware of it — they may keep it a secret from him — but I'm sure there are many women in his life who he cares about who have faced an unplanned pregnancy and have had to decide whether or not to get an abortion. I think he would probably care a lot more about women's health care if he was aware of those women. That's why having women share their stories is so important — because this needs to get closer to home. I'm not sure what else would change his mind. How do you grow a heart if you don't have one?
On what would happen if Trump and Pence are elected:
They've committed to overturning Roe v. Wade, so what's at stake in this election is quite real. When that happens — when women are denied the right to have an abortion — they become second-class citizens. Overturning Roe v. Wade  keeps women in poverty. It keeps women uneducated. It would be a very, very sad day.
*An earlier version of this post implied Tim Jones was the current speaker of the Missouri House of Representatives.