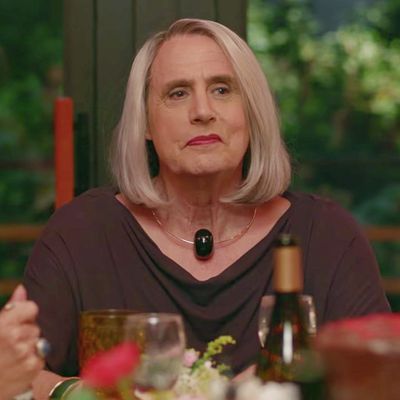 Amazon's breakout hit Transparent is back for its third season on September 23, and based on the new trailer and synopsis, Jill Soloway is going to keep tugging on our heartstrings whether we like it or not. ("When one person in a family transitions, everyone transitions," Shelly declares.) Plus: new haircuts! Sarah with a whip! Kathryn Hahn!
Here's what we're most looking forward to:
Flashbacks
Per Entertainment Weekly, the new season "will revolve around the theme of coming out of your shell and will feature flashbacks to Maura (Jeffrey Tambor) in 1958, exploring what it means to be a 12-year-old in the wrong body." Flashbacks have been the source of some of Transparent's most affecting moments, with last season's sequences in '30s Berlin adding devastating historical context to Maura's present-day struggles. We expect young Maura (played by a young trans actress named Sophie Grace Gianna) to provide the show with a similarly rich narrative opportunity.
Maura's perfect bob
The trailer shows Maura — armed with a chic new haircut — considering plastic surgery on her face ("that's fantastic, I'd like to donate my excess skin to research," she remarks after a doctor shows her a rendering of her new jawline). While the show has touched on the question of gender-reassignment surgery, it has taken its time to reckon with each stage of the coming out process. This season appears to be grappling more decisively with questions of image and physical appearance ("she just wants to be pretty, and she deserves to feel pretty," says Ali), continuing to push the boundaries of how the trans experience is depicted on TV.
More terrible dinner parties
The Pfeffermans'  family dynamic has yielded some of the show's most memorable set-pieces — like last year's hellish Yom Kippur brunch at Syd's where no water was served "in solidarity with the drought" — and once again, it looks like a hearty helping of family drama will get served up along with the brisket. The trailer opens with Maura declaring that she would like to be called "Mom" instead of "Moppa" from now on, yielding a lot of stunned faces, plus an Emmy-worthy fork drop from Judith Light.
Rabbi Raquel and Josh
When Raquel and Josh called things quits last season, I was concerned that this might be the last we'd see of Kathryn Hahn, a life-giving presence who deserves to be cast in absolutely everything. Thankfully, TV's coolest rabbi is back, and it looks like she and Josh are having another go at things (he doesn't deserve her, but I'm rooting for these crazy kids all the same).