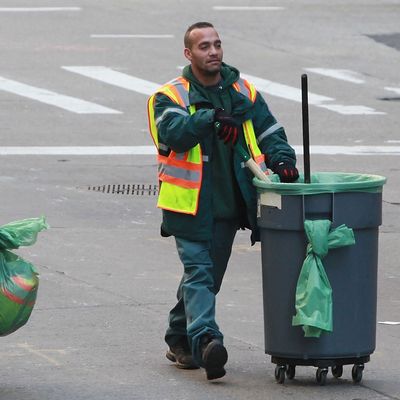 Up-cycled!
Photo: Taylor Hill/FilmMagic/Getty
Earlier this summer, streetwear designer Heron Preston got stuck in a garbage bag while swimming in the Mediterranean, as one does. The episode apparently gave the Kanye West and Nike collaborator a one-of-a-kind idea: Why not show trash bags and garbage-collector uniforms at New York Fashion Week?
In a first-time partnership with the New York City Department of Sanitation, Preston will show a unisex line of repurposed green and orange sanitation uniforms at Fashion Week, according to the New York Post. Titled "Uniform," the collection will reportedly show on September 7 (the same day as Yeezy season four) at the Department of Sanitation's Salt Shed on Spring Street. Donated clothing will be "up-cycled" with silk-screen patterns and patches, according to a press release.
As the first show in an ongoing series, Uniform will honor the city's sanitation workers and promote New York's 0x30 initiative, which aims to eliminate landfill waste by 2030. (A DSNY spokesman also explained Preston's Mediterranean trash-bag incident.)
The DSNY is apparently selling 25 tickets for $2,030 each. Proceeds will benefit a new foundation for New York garbage collectors and an "educational museum" with artifacts and sanitation equipment from the late 1800s.
Preston posted photos of the DSNY Salt Shed after the announcement on Tuesday: "For a dream I had that I would like to share with you in September," he wrote. Can't wait.