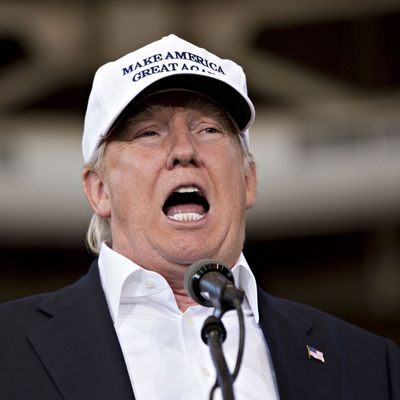 Nothing makes sense.
Photo: Daniel Acker/Bloomberg via Getty Images
On Monday, Hillary Clinton's longest-serving aide, Huma Abedin, announced she would separate from Anthony Weiner, her husband of six years, after the New York Post revealed his involvement in yet another sexting scandal. "After long and painful consideration and work on my marriage, I have made the decision to separate from my husband," she said in a statement.
Then, mere hours later, Republican nominee Donald Trump decided it was necessary for his campaign to release a statement on the situation. After offering his unsolicited opinion on Huma's decision ("I know Anthony well, and she will be far better off without him"), Trump managed to turn the sexting habits of Clinton's aide's husband into a condemnation of her leadership:
I only worry for the country in that Hillary Clinton was careless and negligent in allowing Weiner to have such close proximity to highly classified information. Who knows what he learned and who he told? It's just another example of Hillary Clinton's bad judgement. It is possible that our country and security have been greatly compromised by this.
Trump has fretted over Weiner learning state secrets before. "[Clinton's] No. 1 person is Huma Abedin, married to Anthony Weiner, who is a sleazeball and a pervert," he said during a press conference in June. "I don't like Huma going home at night and telling Anthony Weiner all these secrets." Of course, if he's in the business of judging candidates by those closest to them, Trump might want to do a little housekeeping.