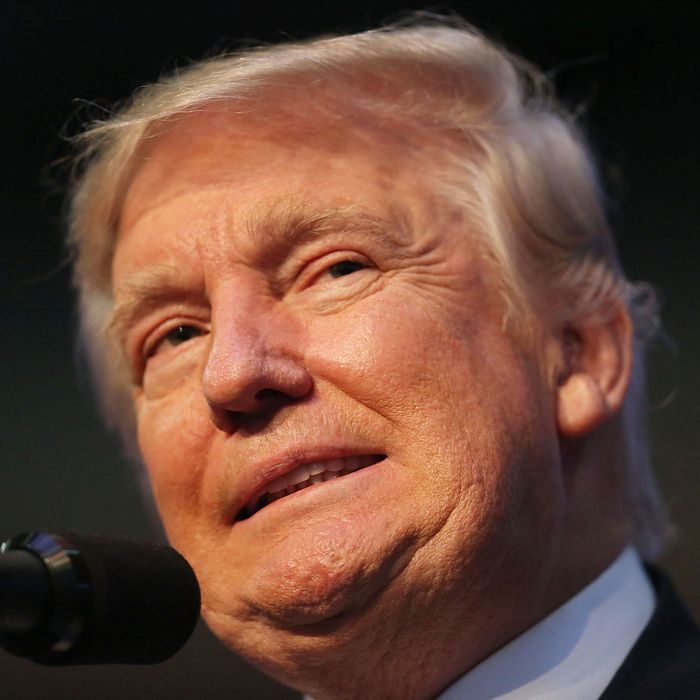 Hmmmm
Photo: Joe Raedle/Getty Images
As Republican presidential nominee Donald Trump spends his time on the campaign trail this week talking about making child care more affordable, the Associated Press has discovered that his previous claims of offering robust child-care services to his employees are false.

In November 2015, while in Iowa, he described the following programs which he had allegedly instituted at his businesses:
"They call 'em Trump Kids. Another one calls it Trumpeteers, if you can believe it. I have 'em. I actually have 'em, because I have a lot of different businesses."


Trump went on to describe "a room that's a quarter of the size of this. And they have all sorts of — you know, it's beautiful — they have a lot of children there, and we take care of them. And the parent when they leave the job — usually in my case it's clubs or hotels — when they leave the job, they pick up their child and their child is totally safe."

"They even come in during the day during lunch to see their child. It really works out well."
In fact, the child-care services he claims exist for workers at his hotels and golf clubs actually are just for patrons and their children. Trump Kids is clearly listed as a hotel amenity on the the Trump Hotel Collection website.
Further, several Trump hotel workers the AP interviewed were confused by the mention of available child-care services, and none of his employee handbooks substantiate his remarks in Iowa.

Then again, Trump has previously called pregnancy an "inconvenience for a business," so expecting on-site quarters for workers to leave their children was really always a stretch to begin with.