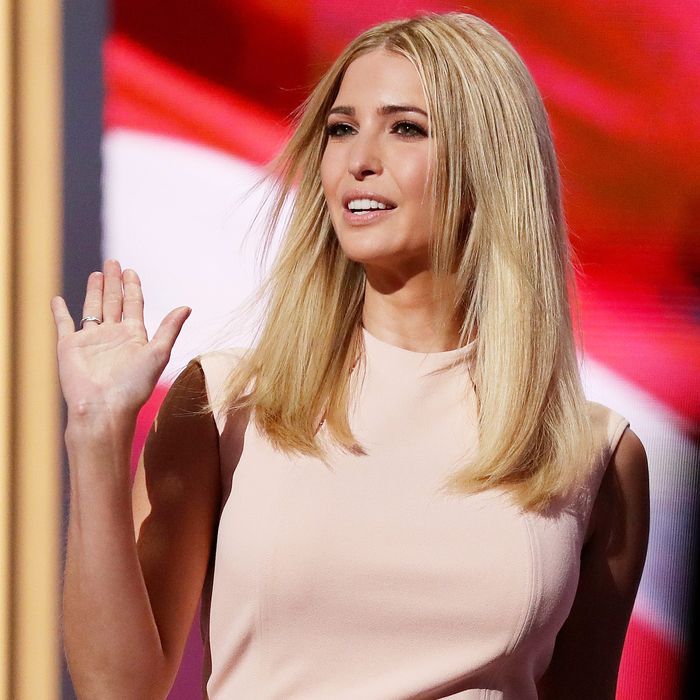 Ivanka Trump speaks at the RNC.
Photo: John Moore/Getty Images
At the Republican National Convention, Ivanka Trump delivered a speech focused on women's equality in the workplace. She advocated for equal pay and paid family leave and promised that her father would enact policies to make the lives of working women — and especially working moms — easier.
Much of her own brand is built around that same concept: She uses the hashtag #WomenWhoWork to promote her lifestyle website and has even penned a book with that title. But, as the Washington Post reports, the company that manufactures and distributes Ivanka Trump's fashion line, G-iii, offers its employees just 12 weeks of unpaid maternity leave, the legal minimum for employers with more than 50 workers.
Five past and current G-iii employees confirmed the company's policy to the Post, and one provided documentation. According to the document, G-iii allows for "family medical leave" after one year of employment in the form of "up to 12 weeks of unpaid leave (in accordance with Federal and State laws)."
"It's hard enough emotionally to come back to work right after having a baby," a G-iii designer told the Post. "But to know you're returning to a company that doesn't value your choice to be a mother makes it harder."
Ivanka Trump signed a licensing agreement with G-iii back in 2012, which allows the company the right to use her name on its products. Her fashion line reportedly netted $100 million in revenues in the last fiscal year, and a G-iii representative said that soon they hope to increase revenues to $250 million.
But although the company's vice-chairman said Ivanka is "very involved on a weekly basis" in design and other decisions, it appears she's choosing to overlook the fact that G-iii's policies are in direct conflict with her own professed beliefs; not only does the company not offer its designers paid maternity leave, which Ivanka has called "enormously important," but it also manufactures all of its garments outside the United States.