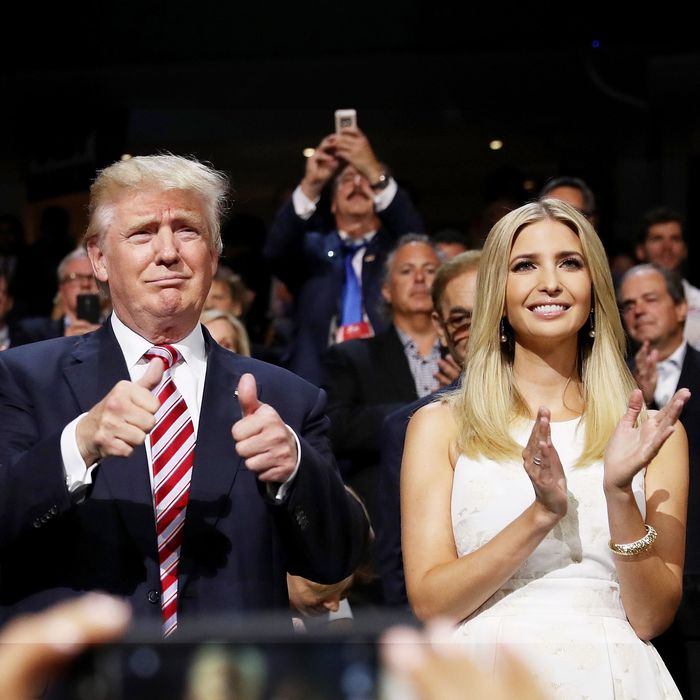 Meet Donald Trump's one and only female cabinet member: Ivanka Trump.
Photo: Joe Raedle/Getty Images
Donald Trump, who, it should be noted, is "doing really well" with women, struggled to name even one he'd put in his cabinet should he be elected president. In fact, in an interview with The Chat's Angelia Savage, who used to work at the Trump Organization, Trump was asked point-blank which women he'd chose as advisers, and the only one he named was his own daughter.
" … Who [would you] actually put into office as one of [the] first female[s] in your cabinet?" Savage asked, after Trump reminded her that she was once Miss Florida and called her an "easy winner." 
Trump replied, "Well, we have so many different ones to choose. I can tell you everybody would say, 'Put Ivanka in, put Ivanka in,' you know that, right? She's very popular, she's done very well, and you know Ivanka very well. But there really are so many that are really talented people."
Then, having failed to recall even one of those "talented people," Trump suggested that perhaps Savage would like to be in his cabinet. 
SAVAGE: Is this breaking news? Am I gonna be in the cabinet?

TRUMP: But Angelia is — she is very talented.

SAVAGE: Is that a yes?

TRUMP: Sounds like it to me.

SAVAGE: We're looking good. Awesome.
If only someone with "binders full of women" could give him the hookup. Luckily, what Trump lacks in women advisers, he makes up for in Steves.