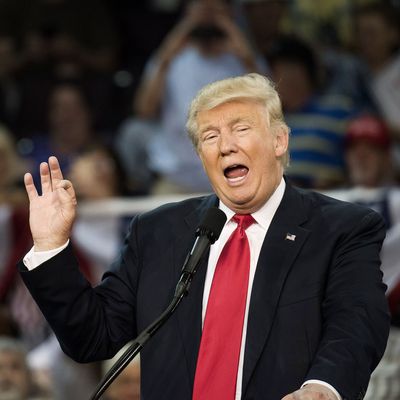 Donald Trump really wanted an invite to Chelsea Clinton's wedding.
Photo: Ty Wright/Bloomberg via Getty Images
A young (well, younger) Donald Trump had a lot in common with John Beckwith and Jeremy Grey, so it comes as no surprise that he tried to crash a wedding or two in his day. What is surprising is that the wedding he tried to talk his way into was that of the daughter of his current political rival. According to an excerpt from Joe Conason's upcoming book, Man of the World: The Further Endeavors of Bill Clinton, Trump firmly believed the Clintons meant to invite him to Chelsea's wedding in 2010:
And finally there was Donald Trump, who had hosted a somewhat reluctant Bill and Hillary at his third wedding in 2005. The real estate mogul was the sort of person who, though not an actual friend, still aspired to attend Chelsea's wedding, which he clearly considered a prestigious event. An avid reader of gossip columns, he had probably seen mentions of a guest list that was expected to include the likes of Oprah Winfrey, Barbra Streisand, Steven Spielberg, and Ted Turner (none of whom ultimately turned up).

And having given Bill Clinton free access to his northern Westchester golf club, Trump National, where he proudly hung photos of the former president — and had even cleared the links once for the Clintons to play on Bill's birthday, Trump may well have felt they owed him. So when the wedding invitation didn't arrive, he called Doug Band to try to invite himself.

'I'm supposed to be at the wedding, Doug,' said Trump briskly, 'but I didn't receive the invitation, and I need to know where to go.' Band knew Trump wasn't on the list, of course, and politely urged him to get in touch with Chelsea for directions. At that point, the would-be wedding crasher apparently gave up.
Trump later called an ad placed for the wedding venue "tacky," so take that, haters and losers.