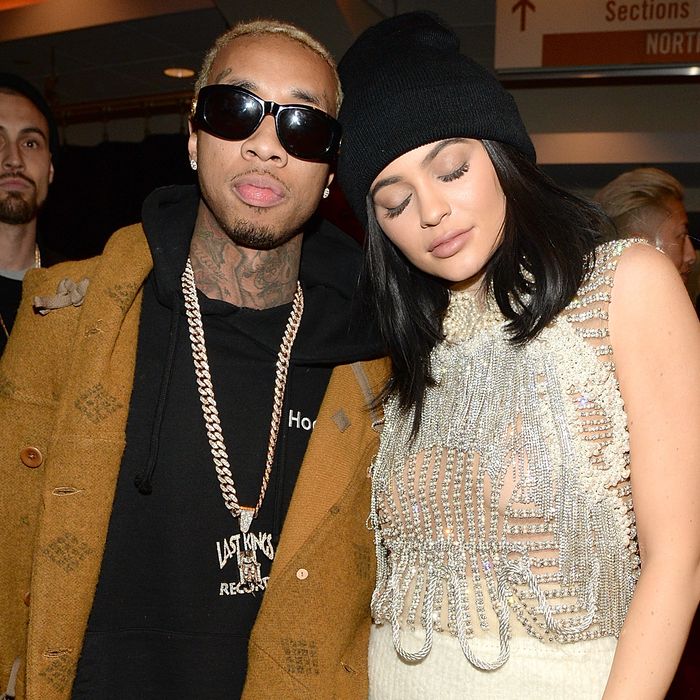 Photo: Kevin Mazur/Getty Images
What's the perfect gift for the 19-year-old girl in your life? If you're Kylie Jenner, the answer is a Mercedes-Benz Maybach with a big red bow inside.
The lip-kit mogul posted a few videos to Snapchat, presumably taken by her boyfriend, Tyga, that show her being "surprised" by the car as she casually eats a banana, then striding toward the shiny, new Benz while cooing, "T! What is happening?" She posted a few other videos of the inside of the car, including one where she says, "Happy early birthday to me! I love you, T."
If there's one thing Tyga and Jenner can agree on, it's their love of fine automobiles. Tyga bought Jenner a Ferrari for her 18th birthday, although it was rumored that Jenner's name was on the lease. Tyga has had a few run-ins with the repo man this year himself, according to gossip sites; his Bentley was repossessed in February, and he apparently owed a wad of cash on his Lamborghini as recently as April. Maybe the on-again, off-again couple should stick to making out on or near expensive cars at their local dealership instead of buying them.