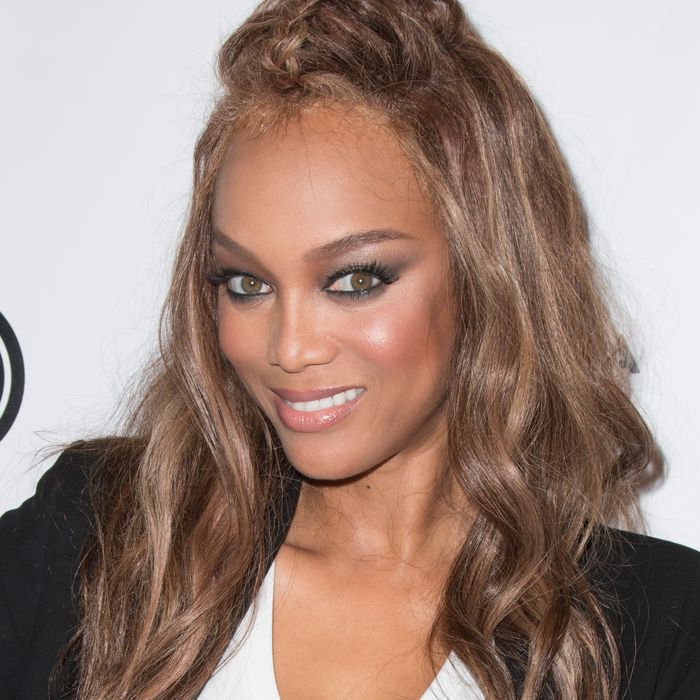 Tyra Banks.
Photo: Tasia Wells/Getty Images for Beautycon
Next spring, Tyra Banks will co-teach an MBA class on personal branding at Stanford University. For two glorious weeks, she's going to be "fun" but "tough" in the classroom, according to The Wall Street Journal: "If I see somebody not paying attention, I'm gonna call on them," she said. Phones are forbidden in her presence unless you want to "tweet something I've said."
As a first-time professor and guest lecturer with Stanford professor Allison Kluger, a former producer for Good Morning America and The View, Banks will advise about 25 grad students on crafting and protecting their personal brands. Also on the syllabus: livestreaming class projects on Facebook and YouTube (the horror?), creating a short video introducing yourself (kind of like America's Next Top Model auditions), and promoting yourself on social media (to presumably gain 13.4 million Twitter followers like Tyra).
The announcement comes after a flurry of celebrities attended Harvard Business School this summer, including Maria Sharapova (post drug-test fail), Channing Tatum (as a "live case" study, sure), rapper LL Cool J, and two NBA players. Banks, who completed a program there in 2012, is perhaps the perfect choice for Stanford: Who else is constantly perfecting her brand as a supermodel slash businesswoman slash TV executive all at the same time? She presided over 252 episodes of America's Next Top Model; soon, she'll host NBC's start-up reality show Funded.
Kluger asked Banks to teach the Stanford class with her after watching her speak at a Stanford event, where Banks described cold-calling the CEO of Zappos for advice on starting her own company. The two will plan the course over the next few months until registration opens: first-come, first-served, no exams, and you can ask to take it pass/fail. What could be better?