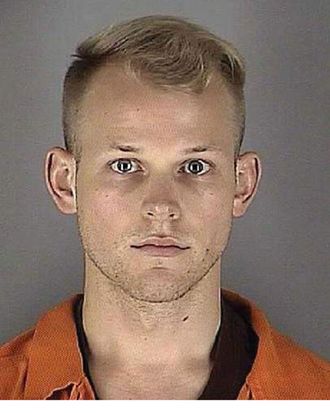 Twenty-two-year-old Daniel Drill-Mellum, a former University of Minnesota student and Sigma Phi Epsilon fraternity member, was sentenced to 74 months in prison and a lifetime on the sex-offender registry, the Star Tribune reports. Drill-Mellum, who was sentenced on Tuesday, pleaded guilty to two counts of third-degree criminal sexual conduct after he assaulted two women in 2014 — one in his frat house's laundry room during a party, and the other at his apartment a week later.

Much in the same vein of the Brock Turner and Austin Wilkerson sexual-assault cases, one of his victims released a powerful and eloquent victim-impact statement that detailed the horrific, visceral account of her violent rape. She writes:


I remember realizing once I walked into his apartment that there was no one else there, and the terror that quickly set in when I realized what he was about to do. I told him I didn't like sex and I didn't want to have sex, I told him it had been a very long time and I didn't want to. I begged to go back to my friends. He didn't listen. I squirmed away and tried to roll over, but he kept pulling my body back. Eventually, he allowed me to flip onto my stomach as he raped me. I remember thinking "just close your eyes and you can get out of here soon". I didn't even realize I was crying until he asked me if I was; except it wasn't in a caring tone. The tone was mocking, aggressive, and I defiantly said that I wasn't and continued sobbing into the pillow. Despite my protests, he raped me anally as well. He told me that he was going to finish inside of me. He stuck his fingers inside of me and then shoved them down my throat, tearing what I think is called a frenulum. I felt like I couldn't breathe as he forced one arm down on my back and shoved the other hand down my throat as I choked. I thought I was going to die. I kind of hoped I was going to die.
She also mentions, "I remember hearing later from this same detective that Mr. Drill-Mellum had insisted that I wanted what happened to me, because I liked rough sex," and that, despite Drill-Mellum's words in the courtroom, she had "never seen any remorseful or apologetic behavior from him."

Read her full victim-impact statement at Fox9.