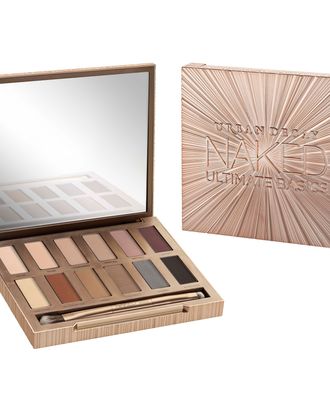 The new Urban Decay Naked Ultimate Basics Palette.
Photo: Urban Decay
It's not hyperbole to call Urban Decay's Naked palette the best-selling eye shadow in the world. A Naked 3 palette sold every second, and each new iteration of the palette is as wildly successful as the original.  Their newest is the Naked Ultimate Basics Palette.
Matte is the keyword for this version — drawing on feedback from their fans, the brand decided to create their first entirely non-glittery or shimmery palette with 11 matte eye-shadow neutrals (and one demi-matte for highlighting). True to Naked form, the palette contains plenty of shadows that a non-discerning eye might simply describe as "brown," but which Urban Decay christens with names like Commando (a light taupe-brown matte), Extra Bitter (burnt-orange matte), and Lockout (a rich neutral-brown matte). Nuances! The rainbow of largely brown shades goes on sale September 13, and you can sign up to learn more about it here.